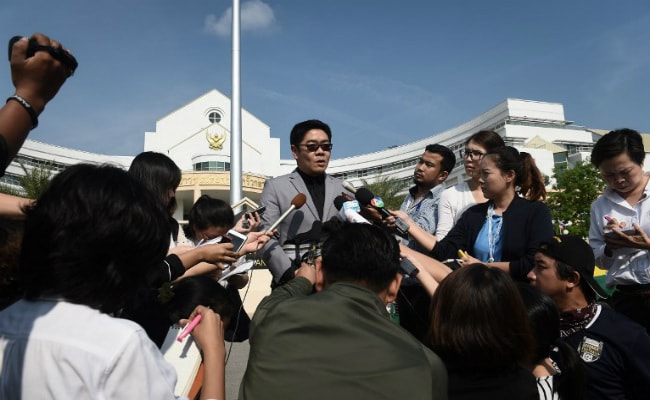 In August 2014, Thai authorities stormed the Bangkok condo of Japanese millionaire Mitsutoki Shigeta to find one baby, then another and another, until they counted nine surrogate babies in all, each accompanied by a nanny. Playpens and bottles dotted the mostly unfurnished rooms.
"I've never seen a case like this," the Thailand director of Interpol said about what the country dubbed the "baby factory," after tips led the international policing group to investigate amid concerns of human trafficking.
On Tuesday, Bangkok's Central Juvenile Court awarded Shigeta, 28, custody of 13 babies he fathered via surrogacy.
The court said it did not find evidence of human trafficking.
Shigeta's motives and rapid surrogacy raised suspicion from the New Life clinic he used to find surrogate mothers. Mariam Kukunashvili, founder of the international clinic, told the Associated Press in 2014 that Shigeta submitted requests for new mothers soon after others became pregnant.
"He said he wanted 10 to 15 babies a year, and that he wanted to continue the baby-making process until he's dead," she said, adding that he asked about equipment to preserve sperm in old age. She warned Interpol in 2013 but said her faxes went unanswered.
Interpol said they never received the messages. The clinic did not return a request for comment, and Interpol referred questions to the Thai Royal Police, which could not be reached.
Shigeta, son of billionaire businessman Yasumitsu Shigeta, said through his lawyers that he simply wanted a big family, the AP reported. He did not appear at court. The law firm that represented him there, Siam Premier International, did not return a request for comment.
Thailand banned foreign surrogacy in response to the 2014 incident, and another infamous case where an Australian couple abandoned a baby born to a Thai surrogate when they discovered the baby had Down syndrome.
During the trial, Shigeta produced evidence of financial means and a plan to care for the children, including drafted bank accounts and a home near a park in Tokyo, the AP reported. A total of 17 babies were found to be fathered by Shigeta, including four sets of twins.
He also has two children via surrogates in India, CNN reported.
The mothers were paid as much as $12,500 each to carry his children, reports said.
Shigeta won custody of the other four children born via surrogacy in Thailand before this week's ruling. Those children were raised in Japan and Cambodia and were well cared for, the court said.
Shigeta fled the country after the raid in 2014, the Bangkok Post reported at the time.
Little is known about Shigeta, described by the AP as litigious in protecting his identity. After authorities revealed him as the father, his lawyers blanketed Japanese media with demands to not publish his name or names of his family members, though that proved to be unsuccessful. His father, Yasumitsu Shigeta, is the chief executive of office supply company Hikari Tsushin Inc.
There are few public photos of Mitsutoki Shigeta. One image circulated in Thai media shows Shigeta at a customs kiosk leaving the country with travel documents in one hand, a baby in another.
(This story has not been edited by NDTV staff and is auto-generated from a syndicated feed.)