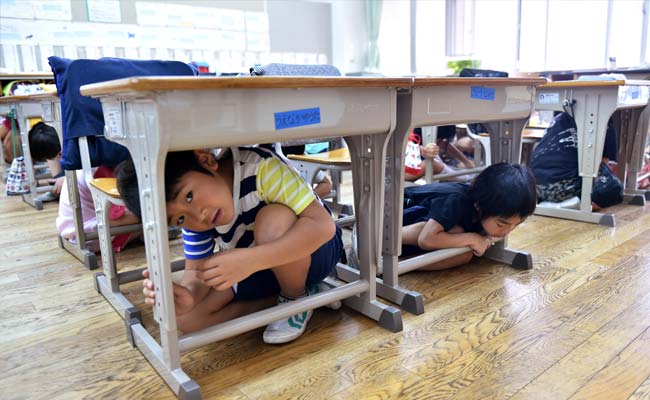 Tokyo:
About 1.6 million people across Japan took part in an annual emergency drill on Tuesday, with schoolchildren taking cover under desks and top officials meeting in response to a mock natural disaster.
Rescue operations and emergency medical exercises were carried out to simulate an emergency response to a strong 7.3 magnitude quake rocking Tokyo in the early morning.
Cabinet ministers dressed in blue uniforms held a meeting at the prime minister's office, while schoolchildren across the quake-prone nation hid under their desks or donned padded fireproof hoods.
The nationwide drill is held annually on September 1, known in Japan as Disaster Prevention Day, which comes on the anniversary of the 1923 Great Kanto Earthquake that killed more than 100,000 people and levelled Tokyo.
The government has stepped up its disaster response since the devastating 2011 earthquake that triggered a deadly tsunami that sent reactors at the Fukushima nuclear plant into meltdown.
"The government will put a priority on protecting people's lives and dealing with the situation using all of our resources," Prime Minister Shinzo Abe said.
Experts have warned Japan to stay vigilant for the next "Big One" after a powerful 7.8-magnitude earthquake struck off the coast in May.
Buildings swayed for around a minute in Tokyo and its vicinity. Twelve people were injured, and some 400 people were trapped on the observation decks of the Tokyo Tower as its elevators stopped for more than one hour.
A separate 6.2-magnitude quake hit off the Izu Islands south of Tokyo, but there were no reports of damage or injuries.
Some experts warn recent quakes and volcanic eruptions may be signs that areas near the country are entering an active phase of change in the Earth's crust.