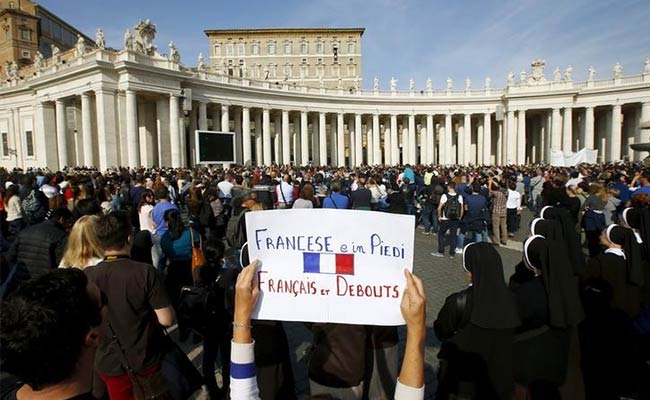 ROME:
Islamic State (ISIS) could attack Rome with drones during a Roman Catholic Holy Year beginning next month and air space over the capital will be closed to drones throughout the event, Italian Interior Minister Angelino Alfano said on Monday.
Countries across Europe are tightening emergency precautions after Friday's gun and bomb rampage in Paris which killed at least 129 people, France's worst atrocity since World War Two, and was claimed by the jihadist ISIS.
Addressing the Chamber of Deputies (parliament), Alfano said drones will be banned from air space over the centre of Rome throughout the Holy Year, or "Jubilee" that begins on December 8 and is expected to draw millions of tourists to the Italian capital.
Following repeated threats attributed to IS on social media against Rome and the Vatican, security would be tightened around sites considered potential targets, particularly in and around St. Peter's Square, Alfano said.
"Particular attention has been dedicated to the risk of an attack from the air, using drones," he said.
Earlier on Monday Italy's civil aviation authority, which had already announced an increase in security in the immediate aftermath of Friday's Paris attacks, said it had ordered airport directors to tighten measures further.
It advised passengers on departing flights to arrive at airports earlier to allow for longer waiting times due to stricter search procedures.
French police believe at least one attacker is on the run.
France declared a state of emergency after the carnage, and Italian Prime Minister Matteo Renzi said heightened security measures were being adopted, including strengthening border controls.
However, an Italian police officers' union said in an angry statement that by the end of Sunday no patrol had been put in place on the Italian border with France in the Liguria region.
Speaking in Belek, Turkey, where leaders of the G20 group of major economies were meeting, Renzi said the problem would take months if not years to resolve.
"It will take great balance and determination," Renzi told reporters, adding that the way other countries handled the overthrow of Libyan dictator Muammar Gaddafi by rebels in 2011 had added to chaos in the region.
"Raids were launched there without creating a strategy for what came afterwards and now Libya is a no-man's land," Renzi said.
Italy has taken in the greatest number of people fleeing the conflict in Libya. Some 140,000 people crossed by boat from Libya to Italy in the first 10 months of this year, the European Union's border agency Frontex said last week.
© Thomson Reuters 2015