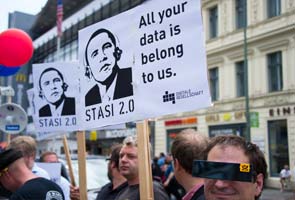 Paris:
Israeli agents hacked millions of phone calls and messages in France, media reported citing a leaked US intelligence document.
Israeli agents were behind a cyber attack against the communications networks of the Elysee Palace, intercepting more than 70 million calls and text messages a month, Press TV reported yesterday citing French newspaper Le Monde's report.
The report published in the daily on Friday said that France had accused the US of hacking into former French President Nicolas Sarkozy's communications network during the 2012 presidential election and senior intelligence officials visited the US earlier this year to discuss the attempt to hack into the Elysee communication system.
However, according to a classified documents dated April 2013, which was leaked by former National Security Agency (NSA) contractor Edward Snowden, the agency denied the allegation and reportedly hinted that Mossad, Israel's intelligence agency, had been involved in the attack.
The NSA's Tailored Access Operations (TAO) that handles cyber attacks denied the allegations and said the US closest allies - Australia, Britain, Canada and New Zealand - were also not involved, according to the document.
After the World War-II, the US signed a "no-spying" deal with Britain, Australia, New Zealand and Canada, known as the "Five Eyes" alliance.
"TAO intentionally did not ask either Mossad or (Israel's cyber intelligence unit) ISNU whether they were involved as France is not an approved target for joint discussions," extracts from the document published by Le Monde read.
The report comes amid outrage over claims the US has been monitoring the telephone conversations of 35 world leaders.
"A US official provided NSA with 200 phone numbers to 35 world leader... Despite the fact that the majority is probably available via open source, the PCs (intelligence production centres) have noted 43 previously unknown phone numbers. These numbers plus several others have been tasked," said the classified document provided by Snowden.
Snowden, a former CIA employee, leaked two top secret US government spying programs under which the NSA and the Federal Bureau of Investigation (FBI) are eavesdropping on millions of American and European phone records and the internet data from major internet companies such as Facebook, Yahoo, Google, Apple, and Microsoft.