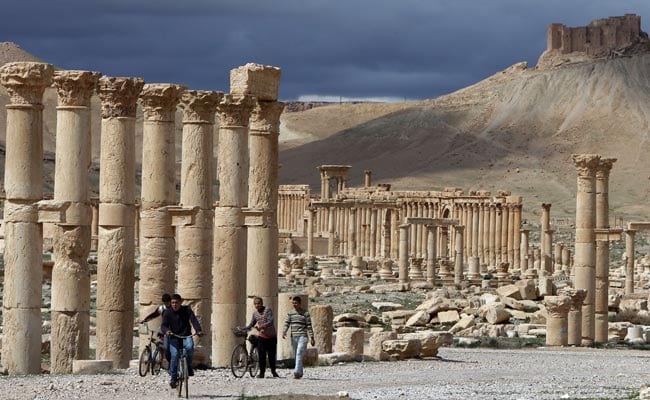 Beirut:
Islamic State (IS) jihadists advanced today on Syria's ancient Palmyra after executing dozens of civilians on the city's outskirts, as Iraq dispatched reinforcements to prevent Ramadi from falling into extremist hands.
Fierce clashes continued overnight near Palmyra, with IS fighters gaining ground east of the metropolis, renowned for its colonnaded streets and elaborate tombs.
Situated in central Homs province, Palmyra lies at the gateway to Syria's vast desert extending to IS-controlled territory in neighbouring Iraq, making the ancient city a key strategic target for the extremist group.
"IS wants to give the impression that it is still expanding its control in Syria and Iraq, despite the strikes by the coalition," said Rami Abdel Rahman, director of the Syrian Observatory for Human Rights, referring to US-led bombing raids in both countries.
Homs province is largely under the control of President Bashar al-Assad's regime, but IS has stepped up attacks there in recent months.
If Palmyra falls, it would expand IS control from Syria's east and north to the country's heartland.
The city is also key to IS's propaganda machine, as the group has destroyed numerous pre-Islamic archaeological sites during its rampage across Iraq and Syria.
Fearing a similar fate for Palmyra, known as Syria's "pearl of the desert," UNESCO has called on the UN Security Council to act in order to save one of the Middle East's historic treasures.
Civilians, children executed
In its brutal advance towards the city, IS executed at least 49 civilians over the course of two days, the Observatory said, including 26 on Thursday after accusing them of "collaborating with the regime."
10 people were beheaded, the monitor said.
IS executed another 23 civilians, among them nine children, on Friday northeast of Palmyra.
"Among the victims, there were displaced people from other parts of Syria who were seeking refuge in Palmyra, as well as the families of local servants, a caretaker and his wife," Abdel Rahman said.
After a night of "very violent" clashes, IS made gains to the city's east, bringing it ever closer to Palmyra's treasured remains, many of which are housed in a museum.
"IS had advanced east of Palmyra after fierce fighting with regime troops," the Britain-based Observatory said.
The monitoring group said both sides were intensely shelling each other, as Syria's army bombarded the city's outskirts from military aircraft.
IS positions to Palmyra's southwest - where the artefacts and ruins are located - held firm at one kilometre (less than a mile) from the city's old Islamic citadel.
Both Syria's opposition and regime have demanded that the renowned site not fall to the jihadists.
Reinforcements to Ramadi
In neighbouring Iraq, IS fighters tightened their siege on the last government positions in Ramadi, west of Baghdad, a day after they seized the city's government headquarters.
Taking control of Ramadi would constitute the group's most important victory this year in Iraq, and would give the jihadists control of the capitals of two of its largest provinces.
Mosul, capital of Nineveh province, has been under IS control since it launched a lightning offensive in June 2014.
Anbar province, of which Ramadi is the capital, extends from the Syrian, Jordanian, and Saudi borders to the gates of Baghdad.
Military reinforcements were dispatched to Ramadi and other parts of Anbar to support Iraqi troops, local officials said, as Iraq's army and the US-led coalition struck IS positions in the area.
Most of the Iraqi government forces and Sunni tribesmen fighting alongside them are concentrated in a nearby military base and in the Anbar Operations Command across the Euphrates River.
But on Saturday, there was no sign of the Ramadi counteroffensive that had been announced by Iraqi authorities, although civilians were fleeing the city in droves.
"Security forces in Ramadi are taking position against the attacks of Daesh, mainly in the areas of Malaab and Operations Command," Ramadi's mayor said, using an Arabic acronym for IS.