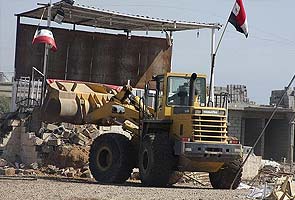 Baghdad:
Three car bombs exploded south of Baghdad on Monday, killing nine people and wounding 70 others, police said, the latest attacks in a seven-day wave of violence that has left more than 230 people dead across Iraq.
In the deadliest attack on Monday, two car bombs exploded in Amara in south Iraq, killing seven people and wounding 45, a senior police officer and a doctor said.
A third car bomb exploded in Diwaniyah, also south of Baghdad, killing two people and wounding 25, police Brigadier General Abduljalil al-Assadi and a doctor said.
A wave of violence began on Tuesday when security forces moved against Sunni anti-government protesters near the northern Sunni Arab town of Hawijah, sparking clashes that killed 53 people.
Subsequent unrest, much of it apparently linked to the Hawijah clashes, killed dozens more and brought the seven-day death toll to more than 230 on Monday.
The violence was the deadliest so far linked to demonstrations that broke out in Sunni areas of Shiite-majority Iraq more than four months ago.
The Sunni protesters have called for Shiite Prime Minister Nuri al-Maliki's resignation and railed against authorities for allegedly targeting their community with wrongful detentions and accusations of involvement in terrorism.
More than 440 people have been killed and over 1,150 wounded in violence across Iraq so far this month, according to AFP figures based on security and medical sources.