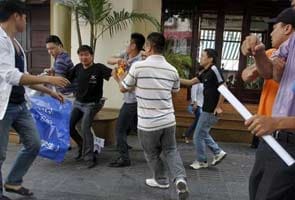 Hanoi:
Rioting inmates seized control of a Vietnamese jail for several hours, taking the prison chief hostage in a protest demanding better treatment and conditions, state media said on Monday.
The disturbance started early Sunday at the Xuan Loc jail in Dong Nai province, about 40 kilometres (25 miles) north of Ho Chi Minh City.
According to reports on dissident blogs, the jail holds a number of high-profile political prisoners.
Some 50 prisoners "smashed the prison and took the jailor hostage", state-run Tien Phong newspaper reported.
One policeman was slightly wounded in the fray, it added.
Guards regained control of the prison several hours later and the prison chief was released.
Police lieutenant general Ho Thanh Dinh said the disturbance "was ignited by some leading prisoners," without specifying whether they were political prisoners.
"We identified about 40 prisoners (who organised the riot and hostage-taking). They will be punished in accordance with the law," Dinh told Thanh Nien Daily newspaper.
The prisoners staged the riot to demand better food and treatment in the prison or to be moved to another detention facility, Dinh added.
Dissident blogs said internet entrepreneur and activist Tran Huynh Duy Thuc, currently serving a 16-year sentence for attempted subversion, is being held at Xuan Loc jail.
Overseas dissident group the People's Democratic Party of Vietnam -- which is banned by Hanoi -- said the riots were organised by political prisoners "to protest the inhumane treatment", according to a statement emailed to AFP.
The riot comes a week after high-profile dissident Cu Huy Ha Vu, serving a seven-year sentence for spreading anti state propaganda, ended a three-week hunger strike protesting conditions at his prison.
The 55-year-old French-trained lawyer is the son of Cu Huy Can, a revolutionary poet and a minister in the government of Vietnam's founding president, Ho Chi Minh.
With his hunger strike, Vu "delivered a message not heard before in Vietnam -- that prisoners in jail have the same rights as other citizens," his lawyer Tran Vu said.
"Vu wants to show that even in jail we can still fight for our rights. Vietnamese prisoners must know their rights."