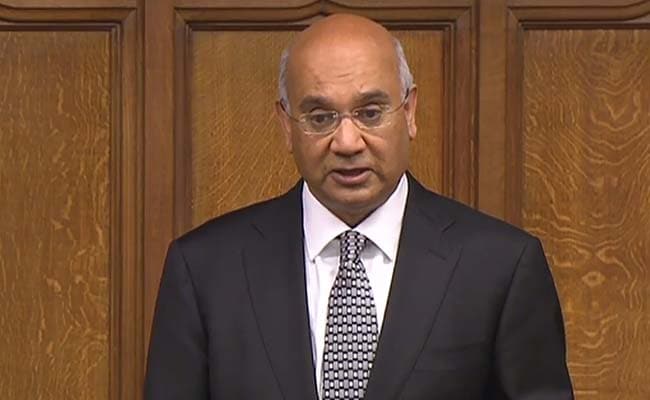 London:
Britain's longest-serving Indian-origin MP Keith Vaz was today caught up in allegations of bullying a woman clerk of the House of Commons.
The 61-year-old Labour party MP from Leicester East is accused of making harsh comments to a Commons' clerk when she reportedly raised an issue about parliamentary rules and standards.
Mr Vaz denies any breach of Parliament's rules and the allegations of bullying, which were broadcast by BBC last night.
Jenny McCullough served as a clerk to the Commons' Home Affairs Select Committee between 2002 and 2011, a committee Mr Vaz chaired between 2007 and 2016.
The former clerk claimed that she was repeatedly bullied by the MP when she sought to uphold the rules of the House of Commons and had not felt comfortable about coming forward with the allegations until now.
"He told me that I wasn't capable of serving the committee because I wasn't a mother. All I knew was, it wasn't normal to be harangued about my fertility status in the reception of a hotel room, at public expense, in front of my colleague on the team," she told BBC's Newsnight programme.
The MP's representative told BBC: "No complaint or allegation of this nature has ever been brought to his attention. Our client had considered that he and Ms McCullough had previously had a good working relationship, and had always considered her to be very effective as a clerk."
Ms McCullough said when she highlighted the issues she faced to her managers, it was treated as though it was normal.
A House of Commons spokesperson said: "We are aware that in the past the House has not had a robust process in place to deal with instances of bullying and harassment.
"We are confident that our new independent complaints and grievance policy will mean that allegations can be dealt with effectively and sensitively."
Mr Vaz stood down from the influential parliamentary committee in 2016 following a newspaper sting, which claimed that he had hired male prostitutes. A parliamentary standards investigation into those allegations remains ongoing.