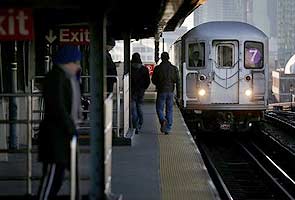 New York:
Sunando Sen, the 46-year-old Indian immigrant who died after being pushed in front of a subway train in New York by a woman, will be cremated on Monday by his friends.
Indian Ambassador to the US Nirupama Rao expressed her condolences on the death of Sen on micro-blogging site Twitter, describing it as a senseless and foul murder.
Sen's cremation is expected to be held in New York since he has no family in India.
"R.I.P Sunando Sen, citizen of India who has been taken away from us in an act of murder most senseless and foul.
R Consulate NY (sic) is in touch with friends of deceased who are arranging cremation on Monday afternoon. Apparently no family in India," Mrs Rao tweeted.
New York police have arrested and charged 31-year-old Queens resident Erika Menendez with second-degree murder as a hate crime in Sen's death. She pushed Sen to his death in front of an oncoming subway train at the Queens station on December 27.
In a statement to the police, Menendez said she harboured hatred for "Hindus and Muslims" after the September 11, 2001 attacks in the US and pushed Sen off the platform because she thought he was a Muslim.
In a statement released by the district attorney's office, Menendez is quoted as having told the police "in sum and substance" that "I pushed a Muslim off the train tracks because I hate Hindus and Muslims ever since 2001 when they put down the twin towers I've been beating them up."
Menendez was referring to the September 11, 2001 attack on Manhattan's World Trade Centre towers by terrorists.
Sen was unmarried and his parents had died. He lived with roommates in a small apartment in Queens and had recently opened his own copying and printing business near Columbia University.
After being on the run for almost two days, Menendez was apprehended by the police yesterday.
She faces a maximum of 25 years to life in prison if convicted.
Get Breaking news, live coverage, and Latest News from India and around the world on NDTV.com. Catch all the Live TV action on NDTV 24x7 and NDTV India. Like us on Facebook or follow us on Twitter and Instagram for latest news and live news updates.