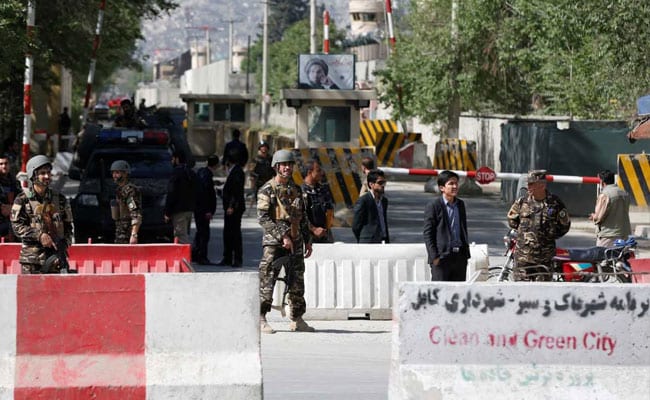 Herat, Afghanistan:
Heavy fighting has broken out in the western Afghan city of Farah after the Taliban launched a major offensive overnight to capture the restive provincial capital, with residents reporting air strikes, explosions and gunfire.

Government forces including 100 commandoes have arrived and are clashing with the insurgents, a local provincial council member told AFP, as residents said the situation was "very bad".

The attack, which comes as the Taliban step up their annual spring offensive, began around midnight, with the insurgents capturing one district and parts of another, local provincial council member Jamila Amini told AFP Tuesday from inside the city.

"Heavy fighting continues inside the city and aircraft have just started bombarding Taliban positions," she said.

"Government reinforcements have arrived including around 100 commando forces."

At least one army convoy has been hit by a suicide attacker on a motorbike, she added, saying there are casualties.

Satar Hissaini, a tribal elder in Farah, told AFP: "The situation is very bad".

"Heavy fighting is going on and Taliban are in the city but the police headquarters and NDS (the Afghan intelligence agency) have not fallen to them," he said.

"NDS forces in their HQ are engaged in heavy clashes with the Taliban."

The insurgents released a statement warning residents to remain inside their homes and called on people to "stay calm".

But the defence ministry said the army had repulsed the attack, and "the security forces are now chasing the enemy".


"The sounds of explosions and gunfire have filled the city," one resident who gave his name as Bilal said, adding that he could see smoke rising from the direction of a building housing the NDS.
The assault comes as the Taliban are stepping up their spring offensive, in an apparent rejection of a peace talks overture by the Afghan government.
Farah is a poppy-growing province in a hard to reach part of Afghanistan which a section of the multi-billion-dollar TAPI (Turkmenistan, Afghanistan, Pakistan and India) gas pipeline will traverse.
Despite security concerns, the Taliban have pledged to cooperate with the project.
Farah has been the scene of intense fighting in recent years.
In 2017 insurgents tried to overrun the capital three times, according to the Afghanistan Analysts Network.
Afghan security forces have struggled to hold back the resurgent Taliban since the withdrawal of NATO combat forces at the end of 2014.
The insurgents have tried several times to take provincial capitals in recent years, including in Kunduz and Lashkar Gah.
(Except for the headline, this story has not been edited by NDTV staff and is published from a syndicated feed.)