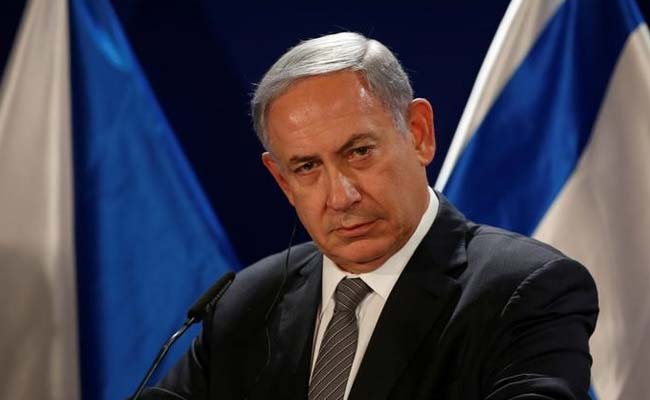 PETAH TIKVA, Israel:
Meni Naftali is not tall, but he's easy to spot among the hundreds of demonstrators gathered outside a shopping mall chanting raucously for their prime minister to be jailed.
Lit up by a glare of light from a television crew, he holds a phone above the crowd to stream live on Facebook. Well-wishers approach for hugs, handshakes and selfies.
It's a far cry from his day job as a house painter and manual laborer. But the 39-year-old former security guard, who struggled at school and says he never had much interest in politics, has become the unlikely figurehead for a band of Israeli citizens fed up with corruption in the halls of power.
Naftali says he sees himself as a David, taking on the Goliath that is Israel's longtime leader Benjamin Netanyahu, who also happens to be his former boss - Naftali once worked as his housekeeper.
Each Saturday for the past 40 weeks, Naftali has led a protest near the home of Israel's attorney general, Avichai Mandelblit, calling on him to indict the prime minister, who is increasingly dogged by allegations of corruption.
Netanyahu has officially been named a suspect in two cases. In the first, he is being investigated for allegedly receiving illegal gifts including expensive cigars and champagne from billionaire benefactors. In a second, he is accused of attempting to cut a deal with an Israeli newspaper for better coverage in return for political favors.
A third case does not name him directly, but his lawyer is among those in his close circle being investigated for irregularities in a multimillion-dollar deal to buy German submarines.
Netanyahu denies any wrongdoing and has said the investigations and the protests are part of a conspiracy by the left-wing and the media to bring him down by undemocratic means. In a speech to supporters on Wednesday, he dismissed the demonstrations as a "joke," attacking them - and Naftali - for close to 10 minutes.
As allegations have swollen, though, so have the demonstrations. What started as a few dozen people shivering in the rain had grown to a crowd of about 2,000 Saturday night. They blew whistles and beat drums.
"We are going to be here as long as it takes to get Netanyahu out," explained Naftali, anti-Netanyahu stickers plastered across a tight-fitting T-shirt and a blue whistle hanging around his neck.
It has already been a long battle for Naftali. It began when he took a job as a housekeeper in Netanyahu's residence six years ago, organizing everything from the laundry to events and making sure the flowers were fresh.
"It was then I realized that in the top spot, anything goes," he said of the excessive spending he said he witnessed. In 2014, he sued the Netanyahus and the state of Israel for damages for mistreatment and being misled over whether his position would be made permanent.
Israeli newspapers lapped up every detail of his courtroom testimony, including allegations about first lady Sara Netanyahu's champagne habit, angry outbursts and racist remarks about Naftali's Middle Eastern background. On one occasion, he said, she called him at 3 a.m. to berate him for buying milk in a bag rather than a carton.
Naftali won a partial payout in the case but said acts of "revenge" that followed made him determined to keep up his fight. His gun license was revoked, he said, leaving him unable to work as a security guard, as he had before Netanyahu hired him. He can now only find jobs as a handyman. Since beginning the protests, he has been arrested four times.
The Netanyahus accused him of slander, calling him a lying, disgruntled former employee with a personal vendetta.
"You can't believe a word coming out of the mouth of the serial offender and the serial liar," Yossi Cohen, a lawyer for the Netanyahu family, said in a statement, accusing Naftali of falsifying a work deposition and attendance records.
Another colleague at the prime minister's residence lodged a sexual harassment claim against him, a case that is still under investigation.
Naftali denies the allegation, contending that it's part of an attempt to smear him.
"They always taught me in the army that if there was a terrorist in front of me, even if the bullets were finished in my gun, I should go forward and fight the terrorist with my hands," said Naftali, who served in a commando unit during his military service. "So anytime there is someone who is against me, I will fight them. I will fight it with all my strength."
Nir Hefez, a spokesman for the prime minister, said Naftali's claim that there a campaign against him is "absurd" and "baseless."
He also shared an article that alleged that spending in the prime minister's residence had increased while Naftali was a housekeeper. Sara Netanyahu is being investigated for the misuse of funds at the residence.
"Who ate all this food?" Netanyahu joked in his speech. "It wasn't my dog."
Joining Naftali in urging Israelis onto the street is Eldad Yaniv, an attorney who says he was once part of the country's corrupt power politics but has now seen the errors of his ways. Netanyahu accused the media of not doing enough to investigate both men's pasts.
Earlier this month, Yaniv and Naftali were stopped by police as they drove their cars to a Saturday protest. They were handcuffed and arrested for Facebook posts allegedly encouraging an illegal demonstration. Police detained them overnight before releasing them.
The police say the demonstrations are a nuisance in the residential neighborhood. But the arrests have only brought them more attention.
The pair say they were strip-searched four times in three hours in what they claim is a campaign of harassment sanctioned from on high.
Police spokesman Micky Rosenfeld said the arrests were "operational."
"Law and order issues have to be dealt with when things get out of hand on the ground," he said. "Those on the scene had their reasons to carry out strip-searches."
Minister of Public Security Gilad Erdan said in a television interview that the arrests were not the "smartest" decision. He told The Washington Post that "the protests had been allowed to proceed for 40 weeks, but that in most other countries police would arrest protest organizers if they had been asked not to demonstrate."
Last week, Israel's Supreme Court ruled that the right to protest outweighed the right of the residents to peace and quiet, and that the demonstrations could continue - though it capped the number of people permitted to protest at 500.
Naftali sat watching from the benches.
At Saturday's protest, a police officer used a handheld clicker to count 500 demonstrators entering a pen set up outside the shopping center. But hundreds of others gathered on the roundabout outside and a nearby hill.
The most recent protest drew a mix of Israelis: older left-wing intellectuals, former soldiers and first-time protesters.
Near the back of the crowd, one protester who described himself as a "couch potato" said he had never been to any kind of demonstration before. Naftali, though, had inspired him.
"I've never met him, but I love him," he said. "He's sincere, honest, not corrupted." The protester did not want his full name published, fearing repercussions for attending the demonstration in what he describes as an increasingly authoritarian environment. "I'm scared for him, actually," he said of Naftali.
Naftali's wife, Simona, said she is also worried about reprisals and tries to keep her distance from the protest. She sits around the corner from the crowd, outside a pharmacy, and keeps a cold bottle of water for her husband in a bag.
"The children don't like it, the spotlight," she said. "We go to a restaurant and someone spots him, and comes over, and it stops being a family moment. You should see the number of messages he gets on his phone at night."
Naftali said that even if Netanyahu is jailed, he will have other battles to fight. "It's about corruption in this country and the right to democracy," he said.
But his wife misses the days when life was simpler.
"It's not that I don't see him; it's his head is somewhere else," she said. "I want him to come back to me, but that's not going to happen now. That's never going to happen."
(This story has not been edited by NDTV staff and is auto-generated from a syndicated feed.)