The last time Danny Diaz-Delgado's family saw him was around 5 p.m. March 23. The 20-year-old left his Trenton, New Jersey, home in his blue Toyota Corolla, to buy his little brother a PlayStation 4 gaming system.
He told his family he would only be gone an hour, so when it was 8 p.m. and he still hadn't come home, they began to worry. His younger brother started calling him, but he didn't pick up, according to police.
Diaz-Delgado would never make it home.
Instead, a passerby found his body the next afternoon, lying face down in a creek embankment, according to a probable cause affidavit by Detective Michael Castaldo of the Mercer County Homicide Task Force. Diaz-Delgado's hands were bound behind his back with pink duct tape and a black electrical cord. The same pink tape was wrapped around his neck and mouth, and he had been shot around nine times, the affidavit said.
Before his death, Diaz-Delgado had been communicating with someone through Facebook Messenger about purchasing a PlayStation 4, according to the affidavit. Diaz-Delgado was an avid gamer and had his own console, but wanted to get one for one of his younger brothers, who also enjoyed playing video games, NJ.com reported.
That someone was 29-year-old Rufus Thompson, according to police, who on Facebook went by "Ru Hunter" and "Ru Real Right." Detectives found messages between Diaz-Delgado and Thompson discussing areas in Trenton "in an apparent attempt to set up a meet location," the affidavit said.
Diaz-Delgado arrived with $240 in hand to buy the gaming system. But police say Thompson, a convicted burglar, had another plan in mind.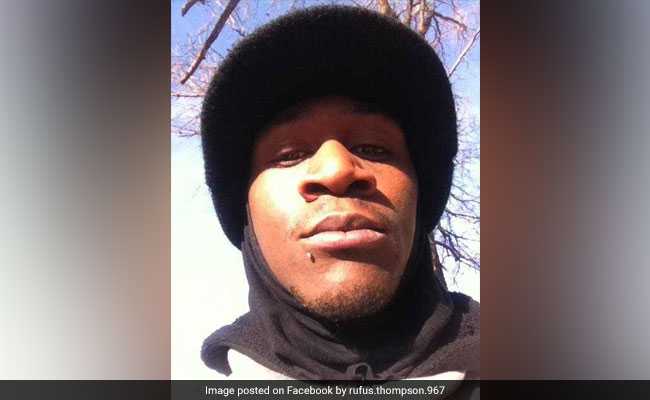 Thompson allegedly abducted Diaz-Delgado and took him to an area near Assunpink Creek, where he shot him, police say.
According to the affidavit, Thompson then made two ATM withdrawals totaling $700 from Diaz-Delgado's account. The ATM's security camera captured Thompson making the transactions, the affidavit said. Detectives also found photos of what appeared to be approximately $240 in $20 bills on Thompson's Facebook profile.
Detectives said there was never a PlayStation 4 console. A search of Thompson's residence revealed an empty PlayStation 4 box, pink duct tape and a TV with its power cord cut off, according to the affidavit.
Thompson was arrested March 31 and charged with murder, robbery, kidnapping, among other things, according to a statement from the Mercer County Prosecutor's Office. He made his first court appearance Monday, pleading not guilty. He's being held pending a detention hearing.
On the same day the arrest was made, Diaz-Delgado's family and friends laid him to rest.
"He was a good person who glowed with the love of God and now he's dead," Diaz-Delgado's mother, Olga Diaz, told 6 ABC Action News.
Diaz-Delgado, who had 12 siblings, was active in his church's youth ministry and had been studying engineering at Mercer County Community College, NJ.com reported.
In addition to his love of video games, Diaz-Delgado enjoyed martial arts and track and field as well as camping, according to his obituary.
Diaz told 6 ABC Action News that her son "was a warrior," who "always fought to better himself."
"I want justice because everyday it only gets harder to deal with this," she said. "Why would anyone do this to a person who never hurt anyone? Now though, my son is in a better place."
(Except for the headline, this story has not been edited by NDTV staff and is published from a syndicated feed.)
Get Breaking news, live coverage, and Latest News from India and around the world on NDTV.com. Catch all the Live TV action on NDTV 24x7 and NDTV India. Like us on Facebook or follow us on Twitter and Instagram for latest news and live news updates.