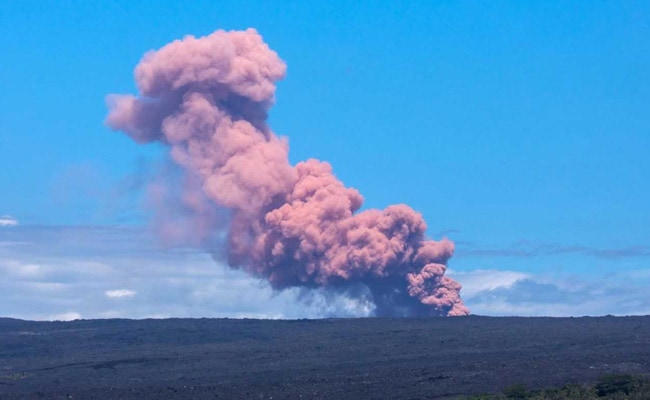 A day after the most active volcano on the big island of Hawaii erupted, two major earthquakes - including the strongest to hit Hawaii in more than four decades - jolted residents there who were in the midst of evacuating from the lava flows and toxic gas that threatened their homes.
The Kilauea volcano first erupted Thursday, sending fountains of lava gushing out of the ground on the eastern side of the island. Residents there were ordered to flee amid threats of fires and "extremely high levels of dangerous" sulfur dioxide gas.
After the eruption, the island shook at regular intervals, but especially so around midday Friday: A 5.6 magnitude quake hit south of the volcano around 11:30 a.m. local time, followed about an hour later by a 6.9-magnitude temblor, according to the U.S. Geological Survey.
The latter was felt as far away as Oahu and struck in nearly the exact same place as a deadly 7.4-magnitude earthquake had in 1975, according to the USGS.
Videos posted to social media showed homes visibly shaking, items clattering to the floor at supermarkets and waves forming in swimming pools as the 6.9 magnitude quake rattled the Big Island Friday afternoon.
The Hawaii County Civil Defense Agency reported that the threat of a tsunami was low following the earthquakes, though officials warned that residents were not in the clear yet.
"Everything is still elevated," agency administrator Talmadge Magno said, according to Hawaii News Now. "It kind of gets you nervous."
Kilauea's eruption Thursday had sent white, billowing clouds of steam and volcanic ash into the sky and prompted emergency officials to order mandatory evacuations.
Authorities warned residents to stay out of the area Friday as molten rock shot high into the air from cracks in the ground in Leilani Estates, a subdivision in the island's eastern Puna district that is filled with wooden homes tucked away on lush, tropical plant-filled lots. About 1,700 people live in Leilani Estates.
The civil defense agency said there was "active volcanic fountaining" in the neighborhood, meaning the lava was springing up from ground fractures; reports indicated it was shooting 80 to 100 feet into the sky. At least six fissure vents have opened in the subdivision so far - and more outbreaks are likely to occur along the rift zone, the Geological Survey said.
Drone footage showed lava oozing forth along the fissures that had formed, inching toward homes in Leilani Estates and leaving lines of smoldering trees in their wake. At least two homes in the subdivision caught fire, Hawaii News Now reported.
Thursday's eruption prompted the County of Hawaii's acting mayor, Wil Okabe, to issue a state of emergency. Gov. David Ige also issued an emergency proclamation and activated Hawaii's National Guard to help with evacuations.
"Please be safe," Sen. Brian Schatz, D-Hawaii, wrote on Twitter.
As of Friday afternoon, at least a few hundred people had evacuated their homes in Leilani Estates and nearby Lanipuna Gardens, taking refuge at local churches, Red Cross shelters and with family and friends in other parts of Hawaii, Rep. Tulsi Gabbard, D-Hawaii, told CNN's Jake Tapper.
Gabbard warned that, in some ways, the threat from the sulfur dioxide gas could be more dangerous than the lava flows, which had stopped in places after the eruption. If conditions worsened, even first responders would not be able to go into the affected neighborhoods to help trapped residents, she added.
"Sulfur dioxide gas can be so toxic and thick in some areas that it can be fatal, especially to those who have respiratory illnesses," Gabbard said. "The wind can push [the gas] in different directions, so that's a very serious concern given the high levels and, you know, people don't necessarily have the kinds of protective gas masks that they would need if they were right in the thick of this gas."
Kilauea is the youngest and most active volcano on Hawaii Island, according to USGS. The eruption from the volcano came hours after a 5.0-magnitude earthquake jolted the island Thursday morning.
Geologists said the current seismic activities around Puna most closely resemble the events that precipitated a 1955 eruption, according to Hawaii News Now. That eruption lasted about three months and left almost 4,000 acres of land covered in lava, the news site reported.
More recently in 2014, lava again threatened the Puna district, specifically the town of Pahoa and its surrounding area, The Post reported. During that event, lava flowed as quickly as 20 yards per hour, and up to 60 structures were at risk.
- - -
Allyson Chiu contributed to this report.
(This story has not been edited by NDTV staff and is auto-generated from a syndicated feed.)