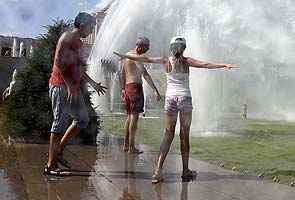 London:
Grass fires broke out in east London on Friday, requiring intervention by 120 firefighters as Britain sweltered in a heat wave that has prompted health warnings from the authorities.
In scenes unusual for famously wet Britain, two swathes of yellowed grass, firs and gorse were on fire, sending smoke high enough to be visible from the Olympic Park several miles away.
The London Fire Brigade said one of the areas affected at Wanstead Flats, just south of scenic Epping Forest, measured around nine hectares, the equivalent of nine football pitches. Eight fire engines and 60 firefighters were battling the flames.
A further eight fire engines and 60 firefighters were dealing with a separate fire a short distance away at Hollow Pond. There were no reports of any casualties.
"As temperatures soar, London's firefighters are dealing with twice as many grass fires compared with last year and they are warning that that number could rise further unless people act responsibly," the brigade said in a statement.
"The brigade are asking the public to be vigilant as the school holidays and picnic season get into full swing."
Britain has been experiencing its first prolonged heat wave in seven years over the past week, with temperatures expected to exceed 30 degrees Celsius in many areas for several more days.
After a washout summer in 2012 and the coldest spring for 50 years, the mercury has soared across Britain and the national weather service, the Met Office, said it hit 32.2 degrees (89.9 Fahrenheit) on Wednesday at Hampton, southwest of London.
The Met Office has issued a level 3 "heat wave action" warning, which means social and healthcare services have to act to protect vulnerable groups such as children and the elderly.
© Thomson Reuters 2013