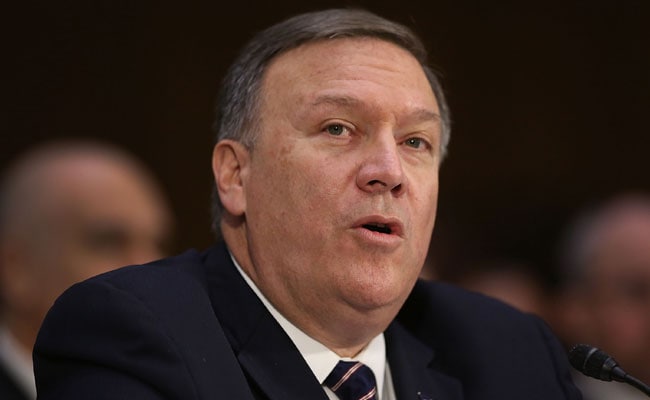 Secretary of State Mike Pompeo said Thursday that the Trump administration is insisting that Saudi Arabia accept the same limits on uranium enrichment and spent fuel reprocessing as other Mideast nations seeking commercial nuclear energy deals with U.S. companies.

Pompeo said that "they have said they want a peaceful nuclear energy program and we have told them we want a gold standard section 123 agreement from them which would not permit them to enrich. That is simply all I've asked of Iran as well."

Pompeo's comments came in testimony before the Senate Foreign Relations Committee. Asked by Sen. Rand Paul, R-Ky., how the administration could insist on one standard with Iran and another more lax one with other Mideast nations, Pompeo said "we have told the Saudis exactly what I asked from the Iranians."


It is the first definitive Trump administration statement of policy on the issue of nuclear cooperation with Riyadh, which has been churning among lawmakers, administration officials and nonproliferation experts for the past several months.
Saudi Arabia has said it wants to build two nuclear reactors to burnish its international prestige, keep up with Iran and free up oil now being used to generate electricity.
It has reviewed plans from five different international groups, including a consortium led by Westinghouse, which is now in bankruptcy, and Bechtel. The kingdom had said that it would choose one by the end of March.
Yet to use American technology, Saudi Arabia needs to negotiate an agreement with the United States called a 123 Agreement, named after a section of the 1954 Atomic Energy Act. And previous administrations have insisted on what is called the gold standard terms accepted by the United Arab Emirates. That agreement bars uranium enrichment and the reprocessing of spent fuel.
A South Korean company that uses some American pumps and technology is building four reactors in the UAE.
The Saudis have argued that they have the right to enrich its own uranium deposits and that it would adhere to the rules of the Non-Proliferation Treaty, which bars the diversion of materials to a weapons program.
But many lawmakers were taken aback when the Saudi crown prince Mohammed bin Salman told CBS' "60 Minutes" that "Saudi Arabia does not want to acquire any nuclear bomb, but without a doubt if Iran developed a nuclear bomb, we will follow suit as soon as possible."
On Thursday, a letter from 14 nonproliferation experts and former defense officials was sent to the senior members of the congressional foreign affairs committees.
"The United States has never entered into a nuclear cooperation agreement with a country that has publicly announced it will pursue nuclear weapons under certain circumstances, abrogating its obligations under the Nuclear Nonproliferation Treaty," the group said.
The group included former Defense Secretary William Perry, former National Security Council director for proliferation strategy Susan J. Koch, former assistant secretary of State for international security and nonproliferation Thomas Countryman, and former Pentagon deputy for nonproliferation policy Henry Sokolski.
"Keeping the lid on Saudi nuclear weapons ambitions is essential if we do not wish to see a proliferation of nuclear weapons in the Middle East," they wrote. "If a nuclear cooperation agreement is concluded, lawmakers should closely scrutinize any agreement with Saudi Arabia to ensure that it contains adequate safeguards."
(Except for the headline, this story has not been edited by NDTV staff and is published from a syndicated feed.)