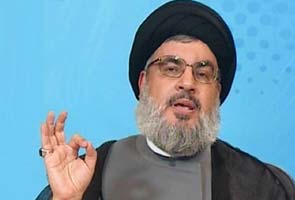 Beirut:
Palestinian militants firing long-range rockets from Gaza into Israel represents a "very significant development" in the conflict with the Jewish state, Hezbollah Chief Hassan Nasrallah has said.
"The firing of Fajr 5 rockets on Tel Aviv today shows the maturation, the wisdom and strength, and the courage of the Palestinian resistance in the Gaza Strip," Nasrallah said in a speech on Thursday night.
"The Israeli enemy was surprised and forced to acknowledge that its capital had been hit," said the leader of Lebanon's most powerful military force, adding that the Iranian-made rockets have a range of 70 kilometres (44 miles)
Gaza militants defied a major Israeli bombing campaign on Thursday, firing off volleys of rockets, one of which hit the sea near Tel Aviv, the farthest distance ever attained by fire from Gaza.
This was the first time rockets had been fired at Tel Aviv since the 1991 Gulf War, when the city was hit by Iraqi Scud missiles.
"This is a very significant development in the history of the conflict between the resistance and the Israeli enemy," Nasrallah said.
The Shiite movement Hezbollah is an ally of the embattled regime of President Bashar al-Assad, which has long provided it support.
But Nasrallah called on Arab leaders, many of demanding Assad step down, to "put aside their differences on the Syrian issue and make every effort to deter, prevent and stop the aggression on the Gaza Strip and protect the people of Gaza."
The only thing that can change the equation, is for the Arab League and the Organisation of Islamic Cooperation "to take a genuine stand" and use oil as a weapon to push the United States to pressure its ally Israel.
"We are all concerned in Lebanon to do everything in our power to help the situation," he concluded.
"This is not Gaza's battle to fight alone, but belongs to all of us."
In 2006, Israel and Hezbollah fought a devastating war after Hezbollah militia captured four soldiers in a cross-border raid. More than 1,200 people died in Lebanon, most of them civilians, and more than 160 Israelis, mostly soldiers.
Israeli continued its offensive in Gaza on Friday for the third day.
The escalating conflict, which has so far killed 20 Palestinians and three Israelis, has drawn expressions of deep concern internationally and sparked anger in the Arab and Muslim world.