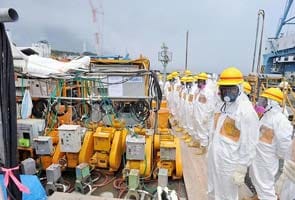 Tokyo:
Japan's nuclear watchdog chief said on Monday that contaminated water from the ruined Fukushima nuclear plant must be released into the ocean eventually, warning the plant remains fragile with many risks.
Shunichi Tanaka, chairman of the Nuclear Regulation Authority, said operator Tokyo Electric Power Co (TEPCO) cannot store huge amounts of coolant water at the plant indefinitely.
"I'm afraid that it is unavoidable to dump or release the water into the sea" after it is purified to levels recognised as safe under international standards, Tanaka told a news conference.
TEPCO has long struggled to deal with the massive amounts of water used to cool reactors that went into meltdown after being struck by an earthquake and tsunami in March 2011.
Neighbouring countries and local fishermen have expressed concern at the mooted release from the plant, where contaminated water was already believed to have escaped into sea.
"The situation at Fukushima is changing everyday," Tanaka said.
"Fukushima Daiichi has various risks," he added. "The accident has yet to be settled down."
The clean-up at the plant has been hit by a series of mishaps that have cast doubt on the utility's ability to contain the world's worst atomic disaster since Chernobyl in 1986.
On Sunday the company said it had found highly radioactive water dripping from a pipe connecting two coolant tanks at one of four radiation hotspots.
Denouncing the firm's "careless management" of contaminated water, Tanaka said: "We need to give them very strict instructions."
The Sankei Shimbun reported on Monday that prosecutors had decided to drop criminal charges against former prime minister Naoto Kan, government officials and TEPCO executives over their roles in the immediate aftermath of the disaster.
Prosecutors had examined the case after local residents filed criminal complaints, but could not find enough evidence to show negligence of duty, the daily said, adding that the decision may be announced later this week.
Meanwhile, workers began switching off one of Japan's two working reactors Monday, with the other set for shutdown later this month and no restarts in sight.
Kansai Electric Power started reducing generating power at its Unit No. 3 at the Oi plant in the western prefecture of Fukui around 5:00 pm, a company spokesman said.
The reactor will be fully shut down by early Tuesday in readiness for inspections legally mandated within 13 months of the start of commercial operations, he said.
The reactor is one of the only two still generating power in Japan. The other one, Unit No. 4 at Oi, is to be switched off on September 15.
It is not known when they will resume operations because they will be assessed under a set of guidelines recently drawn up by the nuclear watchdog, according to Kansai Electric.
The two reactors were restarted -- despite public opposition -- in July last year after passing safety tests, ending a brief period in which no atomic power was generated in the country.
They were the only units to be brought back online after undergoing such tests following the Fukushima disaster.
Japan has turned to pricey fossil-fuel alternatives to fill the gap left by the shutdown of atomic plants, which had supplied about one-third of the resource-poor nation's electricity before the disaster.