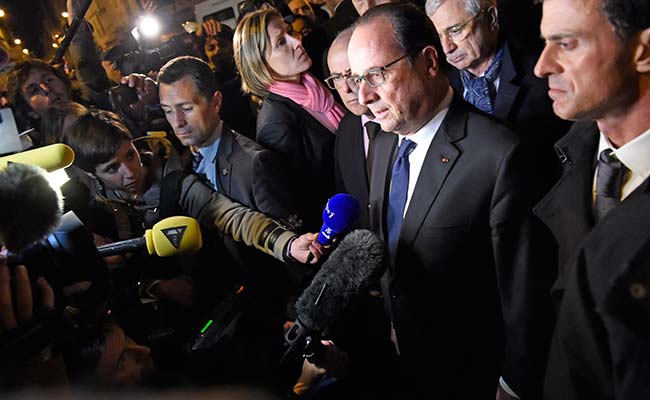 PARIS:
France would wage a "pitiless" war against terrorism, said French President Francois Hollande this morning after multiple attacks in Paris that left over 120 people dead.
"We are going to lead a war which will be pitiless," he said at the Bataclan Concert Hall, the site of one of the attacks.
"Because when terrorists are capable of committing such atrocities they must be certain that they are facing a determined France, a united France, a France that is together and does not let itself be moved, even if today we express infinite sorrow," the French President said.
President Hollande has cancelled his visit to the G20 summit in Turkey following the wave of attacks in the city, his office said.
President Hollande and his US counterpart Barack Obama vowed to reinforce their counter-terrorism cooperation following Friday's attacks in Paris, said a member of the French leader's team.
"Barack Obama wanted to express his support to the French people in the face of this terrible tragedy," said the source. "They reaffirmed their commitment to working closely in the fight against terrorism."
Eight terrorists were killed, including seven by their suicide belts, during Friday's attacks, a source close to the investigation told news agency AFP.
Head of Paris police said Saturday that while all of the attackers are believed to have died, authorities are searching for possible accomplices.
Four men who attacked a concert hall in city killing around 100 people were themselves killed when police stormed the building, including three who activated explosives belts, several sources told news agency AFP.