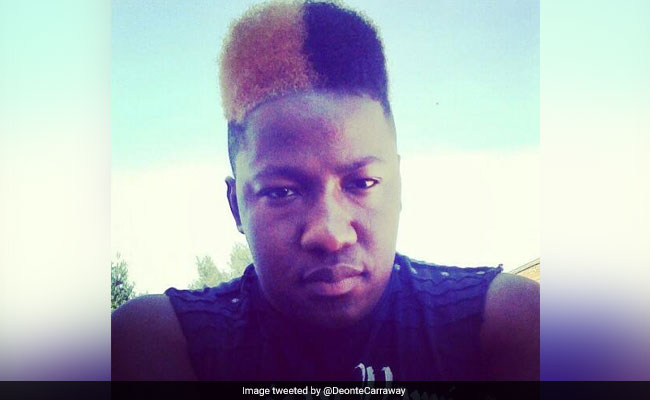 One boy suffers from recurring nightmares, terrors that his mother must track and report to his therapist.
A 10-year-old boy was so distraught, he had to hide under a conference room table to recount to prosecutors the abuse he experienced.
And one child found himself comforting his own mother, telling her, "Mommy, It's not your fault."
The agony Deonte Carraway secretly inflicted on the families of the children he sexually abused or exploited was out in the open Thursday morning, when the former elementary school aide and community choir director was sentenced to 100 years in prison.
The sentence covers the 23 counts of child sex abuse and pornography to which he pleaded guilty in Prince George's County Circuit Court - one charge for every child authorities say he abused.
"You did your best trying to protect your children," Prince George's
County judge Beverly Woodard said trying to comfort the roomful of weeping parents, assuring them they weren't the ones who failed their children. "I think us as a community, as a county, failed you."
Authorities said Carraway, 24, used his position as a teacher's aide at Judge Sylvania W. Woods Elementary School and as the director of a youth choir in Glenarden, Maryland, to sexually abuse children and produce child pornography. He manipulated children as young as 9 to send him explicit images through anonymous messages using social media or to perform sex acts for him to record, according to local and federal law enforcement.
As he did in federal court last month, Carraway apologized.
"It was wrong and I shouldn't have done it," Carraway said standing in orange prison scrubs before the judge. "I wish I could go back and stop myself from doing it, but that's not how life works."
Carraway will serve the 100-year sentence from the county case simultaneously with the 75-year prison term he received last month in federal court on related charges.
Prince George's County State's Attorney Angela Alsobrooks said the state purposefully sought a harsher sentence than the federal term to increase the likelihood Carraway will spend the rest of his life in prison.
"The parents are devastated and remain devastated," Alsobrooks said. "These are the kinds of injuries that don't go away."
Woodard, who spent 12 years prosecuting child abuse cases in Prince George's before becoming a judge, said never during that time did she hear of a "more horrific event" than the case before her Thursday.
Woodard said parents trusted that their children would be safe at school in Prince George's, where she sent her own daughter to be educated.
"Never did I imagine that it would be possible that a predator would be roaming the halls," Woodard said. "As parents, I know that you have a heavy heart. But I urge you to remain strong."
The actions in Carraway's case were uncovered when an uncle monitoring a student's cellphone found explicit images on the device and alerted police. Authorities later learned Carraway handed out phones to children as part of a club he created. He told children that to join the club, they had to send inappropriate photos to him and later threatened to report children to police or alert their parents if they didn't continue allowing themselves to be exploited.
Outside of school and the choir, Carraway acted as a helpful babysitter, offering to walk children to and from school or help them with homework, prosecutors said.
Families have questioned how Carraway was allowed to perpetrate such acts on the grounds of Sylvania Woods during the school day and how he was permitted to be alone with children in a Glenarden government building where some of the abuse also occurred.
Parents have filed several civil lawsuits against the Prince George's County Public School system, the city of Glenarden and Carraway.
"We are grateful for the courts very strong sentence," said Timothy F. Maloney, an attorney representing several families in the case. "Now that the criminal cases have been concluded, our clients will now be able to seek relief in the pending civil cases."
In the aftermath of the Carraway scandal, the school system implemented several administrative and policy changes involving student safety and how it handles reports of child sex abuse.
"The Prince George's County Board of Education has worked collaboratively with our county government, community and nonprofit partners to ensure safe learning environments for all students," Board of Education Chair Segun C. Eubanks said in a statement. "In response to the incident at Judge Sylvania Woods Elementary School, the student safety task force made comprehensive recommendations to protect children from harm, even from individuals with no prior criminal history."
(This story has not been edited by NDTV staff and is auto-generated from a syndicated feed.)