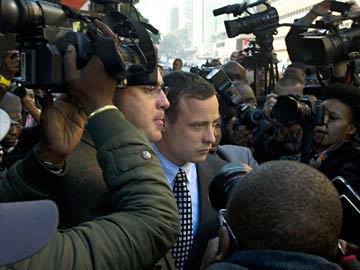 Johannesburg:
New footage of South Africa's Oscar Pistorius firing guns at a range emerged Friday, three days before he goes on trial for murder after shooting dead his girlfriend.
The Sky News broadcast shows the Paralympian hero using a shotgun and a handgun that he shoots at watermelon target which explodes on impact and draws delighted yells and laughter.
The channel said the images, which show Pistorius with several other people at the range, were filmed months before Reeva Steenkamp was shot dead on Valentine's Day 2013.
Still photographs depicted the athlete shooting the same 9mm pistol which was used to gun down Steenkamp, it said.
The 27-year-old South African superstar, who is charged with premeditated murder, is expected to argue he shot his 29-year-old girlfriend through a locked toilet door at his home believing she was an intruder.
Pistorius' fondness for guns is well documented and he slept with a pistol under his bed at his upmarket home in a high security Pretoria estate for fear of burglars.
His trial will open Friday, under the glare of live television.
If found guilty of premeditated murder, he faces 25 years in South Africa's notoriously brutal jails.