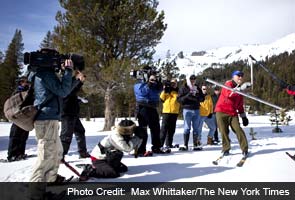 New York:
As a major winter storm made its way up the Atlantic Coast on Thursday, local authorities from New York City to Maine began to make preparations for what forecasters said could be the heaviest snowfall for some cities in the Northeast in a century.
Airlines began announcing the suspension of flights out of New York and Boston airports starting Friday night, as thousands of workers got their plows ready, checked their stocks of salt and prepared for what will most likely be a cold, wet weekend. Amtrak said it would suspend northbound service out of Pennsylvania Station in New York and southbound service out of Boston beginning Friday afternoon.
On Long Island, where some forecasts said there could be more than 18 inches of snow, the power company, which has received heavy criticism for its response to Hurricane Sandy, promised customers that it was prepared.
The city of Boston, where forecasts called for more than 2 feet of snow to fall by Saturday, announced that it would close all schools Friday, joining other localities in trying to get ahead of
the storm and keep people off the roads.
"We are taking this storm very seriously, and you should take this storm very seriously," said Jerome Hauer, the New York state commissioner of the Division of Homeland Security and Emergency Services, at an afternoon news conference.
"If you don't have to go to work tomorrow, we suggest that you do not," he said. "If you do, we suggest that you plan for an early departure."
The latest forecasts, he said, called for between 12 and 20 inches of snow in the New York City region and wind gusts that could exceed 60 mph.
However, with the storm still some distance away, forecasters warned that predictions could change. The first sign of the storm will be a dusting of light snow that is expected to start falling across the region Friday morning.
At some point Friday night, the arctic jet stream will drop down from Canada and intersect with the polar jet stream, which usually travels through the Lower 48 states.
"They will cross somewhere between New Jersey and Nantucket," said Tim Morrin, a meteorologist at the National Weather Service. "That is where the center of the storm will deepen and explosively develop."
If the current models hold, the storm could rival the blizzard of 1978 in New England, when more than 27 inches of snow fell in Boston and surrounding cities. That storm, which occurred on a weekday, resulted in dozens of deaths and crippled the region for days.
Peter Judge, a spokesman for the Massachusetts Emergency Management Agency, said more than 20 agencies had gathered at the agency's operations center in Framingham, Mass., where they were preparing for a historic storm.
"From our perspective, this is a very severe, blizzard-type storm that we haven't had for quite a long time," Judge said. "Worst-case scenario, this will be the worst one that we've dealt with in many, many years. I can't even come up with something comparable."
Michael Clendenin, a spokesman for Consolidated Edison, said the utility was preparing for the storm and would have extra crews available to deal with any problems.
New York state canceled all Civil Service examinations scheduled for Saturday.
Hauer said that residents of coastal areas of Queens, Brooklyn and Long Island could see flooding and should be prepared to seek alternative shelter. Although the storm surge is only expected to be 3 to 5 feet - well below the 14-foot surge that Hurricane Sandy delivered - he said that large waves could bring water inland.
"If you see flooding, have plans for somewhere to go," he said.
© 2013, The New York Times News Service