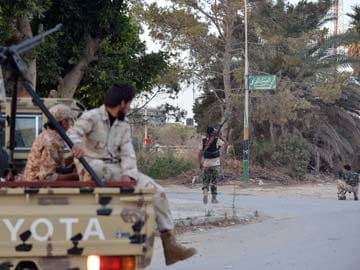 Benghazi:
Fierce fighting between Islamists and a rogue Libyan general's forces in Benghazi has killed 21 people, as violence intensified following the launch of an "anti-terrorist" campaign.
Hospital officials in the eastern city, the birthplace of the 2011 NATO-backed uprising that toppled dictator Moamer Kadhafi, said at least 11 soldiers were among the dead and 112 people wounded.
The government of outgoing prime minister Abdullah al-Thani said it was holding an "emergency meeting" on the violence, which residents said eased in the afternoon.
It was the deadliest violence since 76 people were killed in mid-May as rogue general Khalifa Haftar unleashed an offensive dubbed "Operation Dignity" to purge Libya of Islamists he brands "terrorists".
Underscoring the mounting chaos in the North African country, gunmen yesterday opened fire on the road convoy of army chief Abdessalam Jadallah al-Abidi in Tripoli, without causing casualties, his spokesman said.
Colonel Ali al-Shikhi said the guards of Abidi, who has criticised Haftar's actions in Benghazi, returned fire. An air force commander said that the clashes in Benghazi erupted when three Islamist groups, including Ansar al-Sharia, attacked a base of elite forces who support Haftar.
Images posted on the Internet showed army assault helicopters firing missiles at suspected Islamist targets. The fighting triggered by Haftar's operation has triggered panic in Benghazi, Libya's second city where hospitals appealed to people to donate blood.
"Benghazi is suffering, people are fed up, spare them," the head of the Benghazi Medical Centre, Doctor Leila Buigiguis, said in remarks broadcast on television.
The education ministry closed schools, forcing the postponement of scheduled final exams. Residents cowered indoors and many shops and businesses were closed as gunfire rang out and explosions shook Benghazi, witnesses said.
They said some families were trapped in the western neighbourhood of Sidi Freij, a stronghold of Ansar al-Sharia. Haftar spokesman Mohamed al-Hijazi called on residents in combat zones across Benghazi to evacuate.
Colonel Saad al-Werfelli, who commands the Benghazi air force base, said the jihadists "bombarded base 21 early yesterday, killing and wounding soldiers (from the elite unit) who were trapped inside".
The air force retaliated by launching strikes on the assailants, added Werfelli, who along with the elite forces backs Haftar's campaign against Islamists accused of repeated violence in Benghazi.