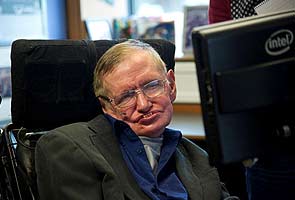 London:
UK physicist Stephen Hawking had come so close to death while writing his bestseller 'A Brief History of Time' in 1985 that his doctors offered to switch off his life-support machine, it has emerged.
The 71-year-old genius scientist reveals in a new documentary film that he was so close to death that doctors had offered his wife the chance to turn off the life support, in order to end his agony, after he contracted a chest infection in Switzerland that turned into pneumonia.
At the time Hawking was writing his bestseller 'A Brief History of Time', 'The Sunday Times' reported.
"It was very serious and I was put into a drug-induced coma and then on a life-support machine. The doctors thought I was so far gone that they offered (his first wife) Jane [the option] to turn off the machine," Hawking said.
Jane, Hawking's first wife, had been driving to join him in Geneva when she was told he was critically ill.
Their 20-year marriage was under considerable strain. "Jane refused to turn it [the machine] off. She insisted I be flown back to Cambridge," Hawking said.
The award-winning scientist has suffered from motor neurone disease for five decades - a condition that kills most victims in five years, the report said.
While he has defied the odds, the documentary, named Hawking, shows that his health is continuously precarious.
In the film, Jane speaks openly about how his fame and illness sent the couple plummeting into their own "black hole" of despair.
She first met the budding physicist when he was a Cambridge student and beginning to suffer the first symptoms of what was to be diagnosed as motor neurone disease, the condition that has left him in a wheelchair for almost half a century and unable to speak without a voice synthesiser.
In the documentary, which will be released later this year to coincide with the publication of Hawking's memoirs, his ex-wife and the mother of his three children talks about the breakdown of their marriage in graphic terms.
The film provides candid insights into Hawking's life, from his childhood to the constant possibility of death. The scientist even wonders aloud in the film if "I am more famous for my wheelchair and disabilities than my discoveries".