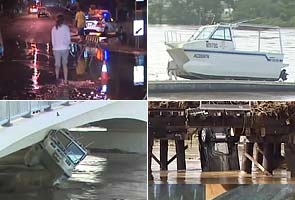 Sydney:
Muddy floodwaters began swamping thousands of homes and businesses in Brisbane on Wednesday as power was shut off in parts of Australia's third-largest city in what has become one of Australia's most devastating natural disasters.
At least 12 people have been killed this week, bringing to 22 the death toll from tropical flooding that has plagued the northeastern state of Queensland since November. Five children were among the latest casualties, caught up in a freak flood that late Monday tore through the highland city of Toowoomba, 80 miles west of Brisbane, and other parts of the Lockyer Valley.
What some have called an "inland tsunami" has been rushing toward Brisbane, a city of 2 million people, and other heavily populated coastal areas, gathering momentum in converging with the major Brisbane and Bremer rivers. After weeks of torrential rain, officials say the region's soil has lost its ability to absorb more water and the region's reservoirs are beginning to overflow.
Emergency management officials have predicted that up to 20,000 homes and businesses could be entirely or partially flooded in Brisbane, Queensland's coastal capital, by the time the Brisbane River reaches its expected peak of around 20 feet above normal in the early hours of Thursday.
Officials expect that around 6,500 Brisbane homes could be completely underwater, along with some 2,100 streets before the river begins to subside, possibly on Saturday, the city's mayor, Campbell Newman said Wednesday.
Thousands of residents began fleeing on Tuesday, gathering whatever belongings they could carry in trailers, trucks and cars. Shoppers emptied the shelves of several supermarkets, and vehicles jammed the city's streets late Tuesday as emergency officials urged residents not to wait until the last minute to find higher ground.
Emergency evacuation centers have been set up to accommodate nearly 10,000 people at community centers, showgrounds and stadiums in both Brisbane and in Ipswich, along the Bremer River to the west. The Queensland State premier, Anna Bligh, said more than 3,500 people had already arrived at 57 evacuation centers, and thousands more were expected to fill the centers before the flooding subsides. Thousands more had fled to the homes of friends and relatives on higher ground, she said.
Aerial footage taken around midday Wednesday showed the slow-moving brown tide engulfing entire blocks of riverside Brisbane neighborhoods. Murky water lapped at the rooftops of businesses along the main street of Ipswich, where some 3,000 homes and businesses were reportedly already underwater, according to television reports.
As the water moved over huge tracts of Brisbane and Ipswich, residents used kayaks and motorboats to return to their submerged houses to see what could be salvaged before the flooding peaks, which is expected early on Thursday.
The region's main power supplier, Energex, has been cutting electricity to large sections of the city and Ipswich to protect the electricity grid and reduce the risk of electrocution. Around 100,000 homes -- including most of Brisbane's central business district -- were without power by Wednesday afternoon.
The evacuations have been largely orderly, with only few isolated reports of looting. Many residents interviewed by local media reported a strong sense of community spirit among those fleeing their homes. Troy Fowler, who left his home in the Brisbane neighborhood of Rosalie, said he and his girlfriend had been overwhelmed by offers of help and support from strangers as they carted their belongings to higher ground.
"People have been fantastic, just random people walking past offering assistance, saying 'Do you guys need a hand?'" he told the Australian Broadcasting Corporation. "We've had a few offers this morning as well, which has been great."
Many Brisbane residents with nowhere else to turn have begun filling the evacuation centers set up by the local government.
Eric Bray fled his home in the low-lying suburb of Yeronga with his young grandson when police warned that the area was likely to be inundated.
"You can't underestimate the water. It's got no brain, it don't say nothing. It just don't care where it's going," he told the Australian Broadcasting Corporation. "All you can do is just get away before it starts coming."
Meanwhile, search and rescue crews began entering areas of the devastated Lockyer Valley that had been cut off by the raging torrent since late Monday. The police have repeatedly revised the number of those unaccounted for in the chaos of the past two days; by Wednesday afternoon, they put it at 51, and said they had "grave fears" for nine of them.
Ms. Bligh, the Queensland premier, said the death toll was likely to rise as emergency crews began reaching isolated communities and sifting through the debris.
"I think it's going to be a tough and emotional day in the Lockyer Valley, as the search and rescue teams get in there for the first time," Ms. Bligh told the Australian Broadcasting Corporation. "Families who are still holding out hope, some of them are likely to have their hopes tragically crushed."
After enduring a decade of one of the worst droughts in Australian history, Queensland residents are now facing billions of dollars in flood damage. One member of Australia's Reserve Bank warned Wednesday that the disaster in Queensland could shave up to 1 percent off Australia's gross domestic product.
The floods have virtually paralyzed the state's lucrative coal and agricultural industries. Queensland produces roughly one-third of the world's supply of coking coal, used in the production of steel. Industry analysts say global prices of coking coal and thermal coal, used to supply power plants, are sure to rise because of the flooding in Queensland.