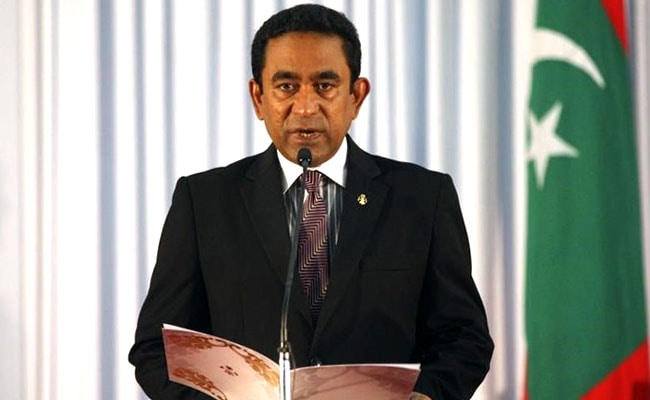 Male:
The Maldives Supreme Court did not seek assistance from the Indian government to
enforce its last week's order to release high-profile prisoners
, including self-exiled former President Mohamed Nasheed and former Vice President Ahmed Adeeb, the Department of Judicial Administration (DJA) said.
A report in Maldives' SunOnline on Monday said that some Indian newspapers carried reports stating that the Indian Ocean nation's Supreme Court asked for New Delhi's assistance to enforce its February 1 order.
However, the DJA denied the reports, saying "neither the Department nor the top court made any such request".
The crisis, which has included repeated rounds of clashes between police and opposition protesters, began when the Supreme Court ruled last Thursday that all politicians opposed to President Abdulla Yameen Abdul Gayoom, including Nasheed, be released immediately. It said their trials were "politically influenced".
The government has so far refused to implement the order
, saying it had concerns about releasing those who were convicted for "terrorism, graft, embezzlement and treason".
It said it had been advised by the Chief Justice to follow "due process in releasing the detainees".
The government said that the Prosecutor General had informed the top court about the "legal challenges" in the implementation of the ruling. In response, the court issued a second order on Sunday stating "there was no legal barrier to implementing its decision" and that "the order must be implemented".
Embattled President Gayoom on Monday asked the Supreme Court to revoke its decision.
Earlier, the government revealed an imminent move by the top court to have Gayoom arrested with the police and Army insisting that "such an order will not be enforced".
Attorney General Mohamed Anil
said that the move to unseat the President would be "unconstitutional".
He said that the President can be ousted only through a vote in Parliament and that police and security forces would not obey an impeachment order from an "illegitimate set of people".
The opening of the country's Parliament which was scheduled for Monday and due to be addressed by Gayoom, was cancelled indefinitely for "security reasons". Later, Parliamentary Secretary General Ahmed Mohamed announced his resignation without citing any specific reason.
Nasheed, the country's first democratically elected leader, took office in 2008. He was ousted in a coup in February 2012.
The country has seen political unrest since he was sentenced to 13 years in jail in 2015 on terrorism charges. He was given political asylum in the UK in 2016.
In a tweet following the Supreme Court's ruling, Nasheed called Gayoom to resign. A similar call was echoed in a joint statement by the country's opposition parties.
(Except for the headline, this story has not been edited by NDTV staff and is published from a syndicated feed.)