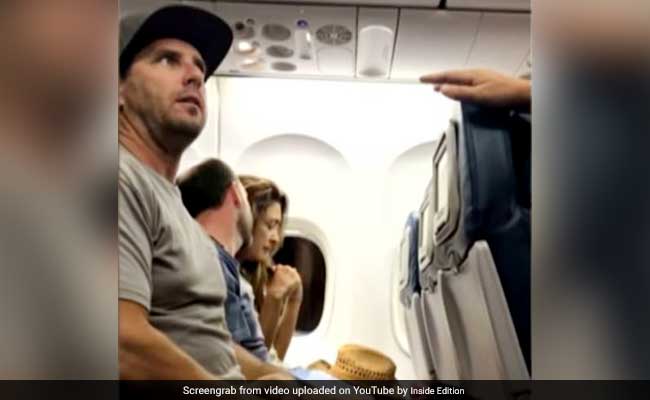 Delta Air Lines this week was the latest airline carrier to come under fire for harsh treatment of passengers. A video posted online by a California father shows his family being kicked off a flight after they refused to give up their 2-year-old's seat, which they had originally purchased for their teenage son.
Experts say the video -- which includes an agent threatening to put the parents in jail, and debate about whether a car seat is safe during air travel -- raises a number of questions. We asked attorneys, doctors and others to weigh in on what's actually true.
1. Can you really be sent to jail for not listening to a flight attendant?
Possibly, says Gregory Winton, an attorney for the Aviation Law Firm in Annapolis.
According to U.S. law, airline passengers who interfere with the duties of a flight crew member or flight attendant by "assaulting or intimidating" them can be fined and imprisoned for up to 20 years. (If a "dangerous weapon" is involved, the passenger can be imprisoned for life.)
But the reality is a bit more complicated, Winton says: "Does having a heated conversation count as interfering with a crew member's job? I suppose it could be construed that way, but the airline doesn't have any authority to make those decisions."
Making that call, he said, is up to the Justice Department, which handles criminal matters. (The Federal Aviation Administration, meanwhile, doles out fines and other civil penalties.)
"When you have someone who is a threat to crew members -- which isn't really the case in this Delta situation -- flight attendants could call in local law enforcement," said Winton, who has worked at both the FAA and Justice Department. "If local law enforcement feels like there's enough of a crime being committed, they could detain the passenger."
But from there, he said, it would be up to the Justice Department to file criminal charges, and "that's something they're not generally interested in doing in cases like these."
2. Where is a child safer during a flight: On a lap, or a carseat?
Although this is up for debate on the video -- an agent can be heard saying the FAA requires the 2-year-old to sit on an adult's lap during the flight, while the father maintains "it's not safe" -- experts say there is absolutely no question that children are much safer in a car seat than on an adult's lap.
The FAA does not recommend that children of any age sit on an adult's lap during a flight. According to its website, "the safest place for your child on an airplane is in a government-approved child safety restraint system or device, not on your lap."
But while the FAA "strongly urges" parents to secure their children in car seats during flights, it is not legally required as it is in cars.
"The law may exempt you from taking a car seat on a plane, but physics does not," said Alisa Baer, a pediatrician and co-founder of the Car Seat Lady blog. "It's important that the child is always restrained in something that's strong enough to hold them."
A car seat, she said, is much safer for a young child in the event of turbulence or a collision, because its seat belts distribute the weight of the impact on the child's chest and pelvis. An airplane's lap belt, by comparison, would force much of the impact on the child's abdomen.
"Our typical recommendation is: Use the car seat on a plane just like you would in a car," she said.
3. Are you allowed to transfer tickets from one passenger to the other?
Simply stated, no. With a few exceptions for full-fare tickets, experts this has been standard policy for decades.
Delta's website, for example, states that "all tickets are non-transferable per the fare rules. Name changes are not permitted."
In the video, the toddler's father says he originally paid for a seat for his 18-year-old son. Since the teenager took an earlier flight, the family decided to use his seat for their 2-year-old. That, lawyers and industry groups say, is not allowed for security reasons.
"A non-transferable policy serves as a security measure," Kathy Grannis Allen, a spokeswoman for the industry trade group Airlines for America, said in an email.
She added that it is important for airlines and authorities to know exactly who is boarding a flight. It also helps ensure "that the ticketed passenger is receiving the right information at all times before, during and after the flight," she said.
4. Are instances like these new, or have customers always been treated this badly?
"This happens all the time," said Mary Schiavo, a former U.S. Department of Transportation Inspector General and current aviation attorney at the law firm Motley Rice. "Literally every day, we're getting calls from passengers who have been in similar situations."
Winton agrees, but adds that recent situations -- like the one on Delta, as well as an earlier incident where a United Airlines passenger was dragged off a plane to make room for an employee -- have been exacerbated in recent months because flights are fuller than usual.
"Planes are packed, which means airlines have less leeway to put high-priority passengers or employees in at the last minute," he said. "That definitely adds to the tension."
So if you -- or a fellow passenger -- are in a similar situation, what's your best recourse? Schiavo says to pull out your phone and record as much as you can (which, contrary to what airline staff might tell you, is completely legal, she says.)
"The best offense and defense is cellphone video," she said. "It is a must."
(This story has not been edited by NDTV staff and is auto-generated from a syndicated feed.)