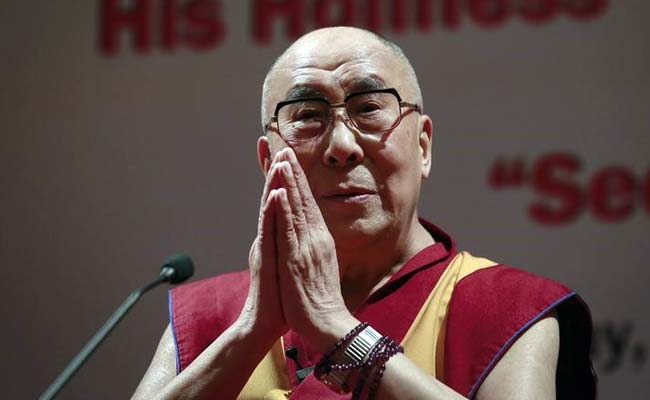 Anaheim, United States:
A three-day celebration marking the Dalai Lama's 80th birthday kicked off Sunday, as thousands of supporters - and some protesters - gathered in Anaheim, California to hear the spiritual leader speak.
The Dalai Lama, who turns 80 on Monday, was guest of honor at the Global Compassion Summit at the Honda Center in Anaheim, south of Los Angeles, speaking on "awakening compassion" and the "transformative power of creativity and art."
His fans said they were delighted to mark the occasion with the Tibetan spiritual leader.
"This milestone occasion is a joyous opportunity for people to come together in celebration of His Holiness' life and achievements," said Venerable Lama Tenzin Dhonden, founder of the non-profit Friends of the Dalai Lama.
"On this very special birthday we will have a chance to celebrate his accomplishments in many areas and hear his exciting view for the years to come."
But not everyone is celebrating his birthday in California: protests were staged outside the conference center by Shugden Buddhists, who revere a deity denounced since 1996 by the Dalai Lama - whom they accuse of religious persecution.
Several hundred demonstrators gathered outside the Honda Center, with some holding placards that read "Stop lying!" and "Hypocrisy."
"The false Dalai Lama... changes Buddhism into political gain through lying," said one leaflet handed out by protesters.
"We will be loudly and vividly protesting outside all three days of the Dalai Lama's events in Anaheim and at UC Irvine," spokeswoman Rachael Jeffrey told AFP earlier, saying hundreds of Buddhist demonstrators were expected to turn out.
'Wolf in sheep's clothing'
China accuses the Dalai Lama of trying to split Tibet from the rest of China and has called him a "wolf in sheep's clothing."
In 2011 the Dalai Lama delegated his political responsibilities to a prime minister elected by Tibetan exiles in an attempt to lessen his own totemic status and secure the movement's future after his death.
But he remains the most powerful rallying point for Tibetans, both in exile and in their homeland.
Ticket prices for the Anaheim event, which can host 18,000 people, range $35-$180, while tickets for the UC Irvine events cost up to $93.
Any profits from the three days will go to charities chosen by the Dalai Lama.
The elderly monk's promotion of non-violence along with his ready laugh have made him a global peace icon and kept Tibet firmly in the global spotlight.
He has been a unifying force for Tibetans inside and outside the mountainous region, even if he has little to show for his decades of lobbying. Formal negotiations with Beijing broke down in 2010 after making no headway.
Last year the Dalai Lama told German newspaper Welt am Sonntag that doctors had told him he could live to 100, adding, "in my dreams I will die at the age of 113 years."
On Monday the Tibetan religious figurehead will discuss climate change and "wisdom, vision and experience," including with other Nobel laureates, while on Tuesday events wrap up with a session on youth leadership.
The Dalai Lama already marked his official 80th birthday last month - on June 21 according to the Tibetan lunar calendar - in Dharamsala, his hometown in exile in India.