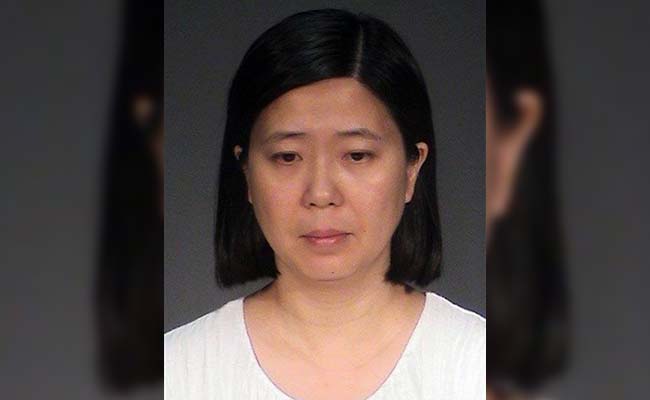 Shortly after midnight Thursday, police officers in the wealthy city of Woodbury, Minn., turned down a darkened street to find a shocking sight.
In the road stood a woman. Her face and body were badly bruised. Her two blackened eyes were filled with fear.
The 58-year-old woman spoke only Chinese, however. It wasn't until a translator arrived that officers began to understand her story.
It was a story of sheer terror.
The woman told police that she had been beaten, starved and threatened with death by her employer, for whom she worked as a nanny.
The nanny had also been forced to walk on all fours for hours "like a dog" and fed her own hair, she said.
When police took the nanny to the hospital, they discovered she had multiple broken ribs and a broken sternum, authorities said.
On Friday, the nanny's employer, 35-year-old Lili Huang, appeared in court to face charges including human trafficking, false imprisonment and assault.
Washington County Attorney Pete Orput likened the nanny's treatment to "slavery or indentured servitude."
"She was held in pretty appalling conditions," he told the Twin Cities Pioneer Press.
Huang's attorney did not immediately return a request for comment on Saturday, the Associated Press reported.
The allegation has stunned Woodbury, a quiet and upscale suburb of St. Paul. The city is home to some of the country's wealthiest families, the Minneapolis/St. Paul Business Journal reported in 2015. Earlier this year, Woodbury was named a finalist for the National Civic League's All-America City Award, given to ten communities across the nation that "engage residents in innovative, inclusive and effective efforts to tackle critical challenges."
In its application, Woodbury boasted of raising tens of thousands of dollars to fight child hunger and maintaining its "small-town" sense of community.
And yet, according to authorities, hidden behind the white columns and red brick of Lili Huang's $539,000 house on Wellington Lane was the most heinous of abuse.
The nanny, who has not been named, began working for the wealthy Huang family in Shanghai, where she took care of Huang's minor daughter, according to a criminal complaint obtained by the Minneapolis Star Tribune. The Huangs treated her well in China, the nanny told authorities, so she agreed work for them in the United States.
Shortly after arriving in Minnesota in March, however, the nanny realized that her situation had radically shifted.
She had been promised $890 a month but now found herself working up to 18 hours a day cooking, cleaning and taking care of the Huangs' child, according to the complaint. Her salary only came out to about $1.80 an hour, authorities later calculated, but she said she never even received that amount.
Instead of a fair wage, she received frequent beatings, she told police.
"During the time in the home she was physically assaulted by defendant, often times in front of the children," Orput, the county prosecutor, said in a statement. "When this occurred she told defendant she wanted to return to China. Defendant acquired the victim's passport and kept it and told the woman she was 'not going anywhere.'"
The nanny was also starved by the family, she told police. She was fed nothing but "scraps" and crackers, causing her to drop from 120 pounds to just 88 pounds in barely four months, according to authorities.
The nanny felt trapped because she had no passport or money and did not speak English.
The attacks worsened this month, she told police.
On July 4, as Woodbury residents relaxed on blankets and lawn chairs outside the city's sports center to watch fireworks, the nanny was allegedly being assaulted by Huang.
Huang grabbed the woman's hair and bashed her head into a table and other objects, the nanny told police. She was also punched and kicked in her rib cage, according to the complaint.
Less than a week later, Huang again attacked the nanny, according to the complaint. On July 10, the nanny was so badly beaten that "she could not get up off her hands and knees," according to prosecutors.
She was forced to walk around the house on her hands and knees "like a dog for four hours," the Woodbury Bulletin reported, citing the complaint.
The alleged abuse came to a head on July 13.
When the nanny accidentally spilled food on the counter, "the defendant came after the woman with a knife threatening to kill her," according to the county prosecutor's statement.
When Huang's father allegedly stopped the attack, the nanny finally fled the home. She walked more than two miles past neatly manicured lawns, luxury SUVs and Lutheran churches until police officers finally came upon her near the sports center that had just hosted July 4 celebrations.
This was now her Independence Day.
With her two black eyes, the nanny told a police translator that she had escaped the house in search of the airport so she could finally go home.
She showed police photos on her cellphone of her various injuries, according to the Star Tribune. At a nearby hospital, x-rays revealed her broken ribs and sternum.
Police pulled up to the large house on Wellington Lane. Then they strode past its red brick and white columns and arrested Lili Huang.
Among the items seized inside the spacious home was a bag that had been hidden under the nanny's mattress.
It was full of human hair.
The nanny told police that Huang had ripped the hair from her head. The nanny then hid the hair, according to the complaint, so that Huang wouldn't find it "and force her to eat it."
Huang appeared in court on Friday to face five felony charges, according to prosecutors: labor trafficking, seizing a passport with intent to violate labor trafficking, false imprisonment, assault with a dangerous weapon, and assault causing substantial bodily harm. She remains jailed in lieu of $350,000 bail, according to the Star Tribune.
In his statement, the county prosecutor alluded to the city's shock over the abuse allegations and the arrest of an affluent resident.
"Human labor trafficking is a crime that no one can believe exists in their community," he said. "However, it is here, it is being committed by some of our citizens, and it amounts to nothing less than slavery in the 21st century."
Around the globe, so-called modern-day slavery exploits tens of millions of people and generates more than $150 billion annually, the United Nations' International Labour Office reported in January.
© 2016 The Washington Post
(This story has not been edited by NDTV staff and is auto-generated from a syndicated feed.)