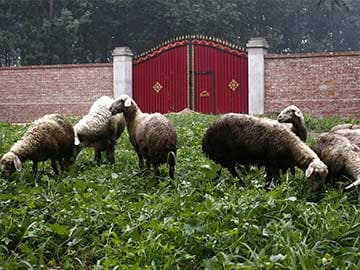 Hong Kong:
All that remains of the long fairways and manicured greens at the 18-hole golf course on the outskirts of Beijing are bits of rubble and mounds of mud. In March, Chinese authorities sent in workers to dig up the course and tear down the clubhouse.
Two others across China were also demolished while another was turned into an eco-friendly park and a fifth converted into a tea plantation, suggesting the government could finally be cracking down on developers who have long ignored a 2004 ban on building new golf courses.
The government, which announced the demolitions last month, said its actions served as a warning and an attempt to educate "would-be" violators. A few weeks later, the national auditor joined in, publicly shaming two big state-run enterprises for building golf courses.
"It's a stepped-up campaign for sure," said one Chinese developer, whose company built a course after the ban and who spoke on the condition that neither his name, his firm nor the course be identified.
Nevertheless, developers interviewed by Reuters expressed little concern, saying golf courses were in demand by local authorities who wanted the revenue from selling land while attracting well-heeled visitors to their regions.
The ban was imposed to protect China's shrinking land and water resources in a country home to a fifth of the world's population but which has just 7 percent of its water. The only place exempt is the southern resort island of Hainan.
Developers had built 639 golf courses across China up to the end of last year, tripling the total since 2004, according to the website of Forward Management Group, a company based in the southern city of Shenzhen that offers a range of golf services in China.

JUST DON'T CALL IT A GOLF COURSE
To skirt the ban, developers and local officials designate land for anything other than a golf course in building applications, developers and lawyers said, calling the projects sports training centres or tourist resorts. Many come complete with high-end villas.
Because of the large tracts of land needed for such projects, China's cabinet must give approval, said lawyer Zhu Maoyuan, who has seen disguised applications.
"I have never seen developers and local governments use 'golf course' as a project name or for land use purposes when seeking approval," said Zhu, a partner at the Zhong Lun law firm in Beijing.
Many applications simply get the go ahead from local authorities, said the Chinese developer.
The central government has promised to clamp down on illegal golf course construction before but the demolition order against the five mainly little-known developers by the National Development and Reform Commission (NDRC), China's top economic planning body, has been the first real sign of enforcement.
The NDRC, which urged local authorities to adhere to the rules and punish violators, did not respond to a request for comment.
Last week, China's National Audit Office in a wide-ranging report on state firms said China National Tobacco Corp had built one illegal golf course and China Metallurgical Group Corp two courses. They were constructed from 2007-2012.
In response, China Tobacco said in a statement it had ordered the closure of the course. China Metallurgical said it had begun the "asset disposal process" and had punished the officials responsible.
The crackdown could be more serious now because of China's pollution crisis, developers said. One of the reasons for the 2004 ban was because the high use of fertiliser and pesticide to grow grass for golf courses was causing water pollution.
"The way many golf courses are built and managed has a negative impact on the environment," said Ma Jun, a director at the Institute of Public and Environmental Affairs in Beijing, a non-governmental organisation.
IN THE ROUGH
Golf has come a long way in China since it was banned as a bourgeois excess by late leader Mao Zedong, with many wealthy Chinese seeing it as a way to affirm their status.
At the Mission Hills golf course in Shenzhen, joining membership fees can cost up to 2 million yuan ($322,100), according to the club's website.
But no one got a chance to tee off at the course in the Chaoyang district of Beijing, which was demolished before it opened.
During a recent visit to the 60-hectare (148-acre) site, a villager in his 20s told Reuters how workers wiped out virtually all trace of the course in a few weeks.
"Trucks went in and out. They almost destroyed the road in our village," said the man, surnamed Wang, who declined to give his full name.
Someone has since planted corn on parts of the muddy land.
The NDRC said the course had been built by Lao He Wan Investment Co under the guise of the Delong Agricultural Model Park. Reuters could not find any trace of the company. Local authorities responsible for the district did not respond to requests for comment.
Among the other courses demolished, one was built in southwestern Yunnan province by a subsidiary of medium-sized Chinese property developer Agile Property Holdings Ltd, the NDRC said. Agile declined to comment.
All five developers were fined.
Up to now, building a golf course has been a win-win for developers and local governments.
A second Chinese developer said he was invited by a local government in eastern China in the years after the ban to build a golf course to help the region lure wealthy residents.
"We got the land cheaply. We made money from selling villas around the golf course and the government got the domestic consumption it wanted," said the developer, who declined to be identified because of the sensitivity of the issue.
Villas are a key way to make profits, developers added.
An executive at a third developer said his firm had constructed a golf course in southern Guangdong province after 2004 and was now planning to build 100 ultra-luxury villas around it. The expected sale price: 70 million yuan ($11.25 million) each.
© Thomson Reuters 2014