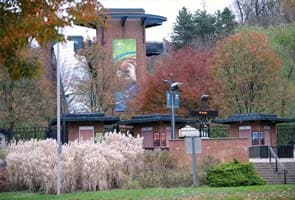 A small boy was mauled to death after falling into an African wild dog enclosure at the Pittsburgh Zoo & PPG Aquarium, the
Pittsburgh Post-Gazette
reported on Sunday.
The newspaper said the child was about 3 years old and was on an outing with his mother when he fell over a railing and off a mesh barrier into the area where 11 of the animals - known as African painted dogs - were on display.
Zoo keepers cleared some of the dogs away and tried to frighten away others by firing darts at them but were unable to reach the child until after police shot and killed one especially aggressive dog, the newspaper said.
The zoo was closed until further notice, it said.
African painted dogs are an endangered species native to sub-Saharan Africa and their scientific name, Lycaon pictus, means "painted wolf," according to the National Geographic website. Also known as Cape hunting dogs, they are long-legged and have irregularly mottled coats with patches of red, black, brown, white and yellow fur.
Zoo officials did not immediately return messages seeking comment, and Pittsburgh police said they had no information.
© Thomson Reuters 2012