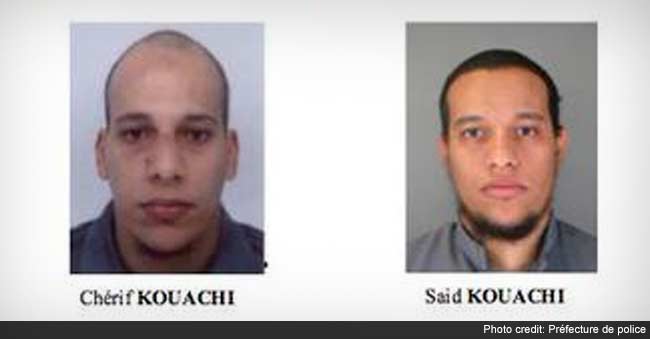 Washington:
The two brothers suspected of carrying out the deadly attack on French satirical magazine Charlie Hebdo had been on a US terror watch list "for years," a US law enforcement official said on Thursday.
Cherif and Said Kouachi, who are believed to have shot dead 12 people on Wednesday in the magazine's Paris headquarters, had been "on our watch list for years," the official told AFP.
The brothers, who were still on the run late on Thursday, were both flagged in a US database as terror suspects, and also on the no-fly list, meaning they were barred from flying into the United States.
Said Kouachi spent "a few months" in Yemen in 2011, receiving training from Al Qaeda's affiliate there in small arms combat and marksmanship among other skills, the New York Times reported, citing a senior US official.
Elite French security forces deployed helicopters in the night-time manhunt for the brothers in northern France, where the two suspects were identified as having held up a gas station.
Islamic State, the militant group sowing terror across swathes of Iraq and Syria and calling for global jihad, hailed the brothers as "heroes" on its Al-Bayan radio station.