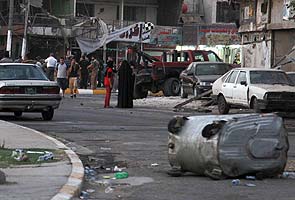 Baghdad:
A series of car bombs exploded across the Iraqi capital on Tuesday, killing nearly 60 people in predominantly Shi'ite districts, police and medics said.
It was not immediately clear who had carried out the attacks, which appeared coordinated, but Sunni Islamist militants, including an al Qaeda affiliate, have been striking with a ferocity not seen in years.
More than two years of civil war in neighbouring Syria have aggravated deep-rooted sectarian divisions in Iraq, fraying an uneasy government coalition of Shi'ite, Sunni and ethnic Kurdish factions.
Tuesday's deadliest single blast took place in Baghdad's northern Talbiya neighbourhood, where a car bomb in a busy street killed nine people.
In the Hussainiya district on the northern outskirts of the capital, two car bombs exploded in quick succession, killing ten.
"I saw a fireball and a huge cloud of smoke. We couldn't approach immediately fearing a second bomb, but we could hear the screams of people asking for help," said Ali Jameel, a policeman in a patrol stationed in Hussainiya.
"A minute later a second blast happened nearby. Bodies were lying on the ground and some of the wounded were crawling to distance themselves from the blaze, leaving a trail of blood behind them".
About 800 Iraqis were killed in August, according to the United Nations, with more than a third of the deadly attacks happening in Baghdad.
The bloodshed, 18 months after US troops withdrew from Iraq, has stirred concerns about a return to the sectarian slaughter of 2006-07, when the monthly death toll sometimes topped 3,000.
Earlier on Tuesday, gunmen stormed the house of a Sunni, pro-government militia member in southern Baghdad and beheaded him, along with his wife and three children, police and medics said.
Separately, four unidentified bodies were found in different places in Baghdad. All of the victims had been handcuffed, blindfolded and killed.
© Thomson Reuters 2013