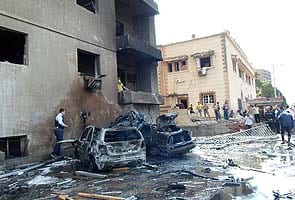 Ismailia:
A car bomb exploded on Saturday near an Egyptian army intelligence building in the Suez Canal city of Ismailia, wounding at least six soldiers, security sources said.
No group has claimed responsibility, but Al Qaeda-linked Islamist militants in the largely lawless Sinai region have stepped up attacks on soldiers and police since the army toppled Islamist President Mohamed Mursi in July. The militants have on occasion extended their campaign into major cities.
Military spokesman Ahmed Ali said in a statement the bombing was "a continuation of the wave of cowardly terrorist attacks", by groups he described as promoting strife.
Security personnel searching the area found another car bomb, which had not gone off, state media and security sources said. Heavy smoke could be seen rising from a building nearby.
The force of the blast caused part of the military intelligence building's outer wall to collapse.
Some security sources said the bomb was planted in a car belonging to a doctor who lived in a nearby building.
In September, the army launched a campaign against armed militants in Sinai, a desert region whose Bedouin population has long complained of neglect by successive governments in Cairo.
Egypt's turmoil has intensified since the army deposed Mursi and installed a new government, saying it was responding to mass protests against the freely elected president's rule.
Mursi's Muslim Brotherhood, once again outlawed in Egypt as it was under ousted President Hosni Mubarak, called the Islamist leader's overthrow a military coup.
Security forces cracked down on the group on August 14, crushing two protest camps in Cairo and killing hundreds of people. Many Brotherhood members have been arrested. Mursi and other Brotherhood leaders face charges of inciting violence.
The Brotherhood, Egypt's oldest and biggest Islamist group, rejects the charges and denies any links with militant activity.
Army chief General Abdel Fattah al-Sisi, the man who toppled Mursi, was quoted by state media on Saturday as saying army and police forces were working together to "confront terrorism and all those who try to create problems and incite strife between the children of this nation".
© Thomson Reuters 2013