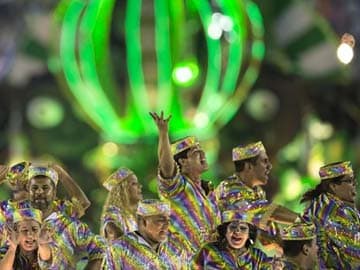 Rio de Janeiro:
Samba school Imperio da Tijuca opened Rio's famed Carnival parade on Sunday night with an over-the-top display that included buxom dancers in bikinis and feathers, thumping drum sections and a float shaped like a giant crustacean.
Six schools were scheduled to parade in the Sambodrome on the first night of a two-night competition, which attracts thousands of spectators and millions of television viewers. Many Brazilians have a favorite samba school that they root for with a passion rivaled only by the allegiances for Brazil's football teams.
More than 2,500 people take part in each parade, which last about an hour, as groups of costumed participants and oversized floats make their way through the Sambodrome. Each samba group is judged in 10 categories, from the quality of the drum sections to the beauty of costumes. Whichever group comes in last is not allowed to compete in the next year's competition among the 12 best groups.
One of Rio's most traditional samba groups, Imperio da Tijuca fell out of the top-tier competition and was back in the elite grouping this year with an African-themed parade featuring a float with giant ants and another with the Three Kings.
Rio's Carnival isn't limited to the Sambodrome, where a ticket for the bleachers can cost hundreds of dollars. The city is also the site of nearly 500 raucous, beer-fueled street parties that begin at daybreak and pulse through the night.
But the showcase celebration is the biggest event in the city ahead of this year's World Cup soccer tournament, which runs for a month and opens in June.
Brazil has come under fire for delays and cost overruns in its preparations for the World Cup, but officials here have pointed to their success in pulling off Rio's annual Carnival parade as evidence of their ability to organize a major event.