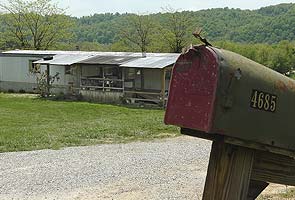 Burkesville:
A five-year-old boy who was playing with a .22 caliber rifle he'd been given as a gift accidentally shot and killed his two-year-old sister in their Kentucky home, officials said.
The shooting happened Tuesday in rural Cumberland county and the little girl was rushed to a hospital where she was pronounced dead, the state police said.
Cumberland County Coroner Gary White identified the girl as Caroline Starks and said the children's mother was cleaning the house at the time and had stepped outside onto the porch.
"She said no more than three minutes had went by and she actually heard the rifle go off. She ran back in and found the little girl," White told WKYT news.
The rifle had been given to the boy last year and was kept in the corner of a room. The parents didn't realize a shell had been left in it.
"It's a Crickett," he told the Lexington Herald-Leader. "It's a little rifle for a kid. ...The little boy's used to shooting the little gun."
An autopsy was set to be conducted on Wednesday, but White said he expects the shooting will be ruled accidental.
"Just one of those crazy accidents," White said.