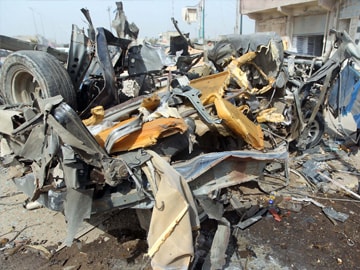 Baghdad:
A series of bombings in Iraq killed eight people on Wednesday, including army recruits, at a time when the country is preparing for parliamentary elections slated to be held later this month.
The deadliest attack took place in the town of Riyadh, which is about 300 kilometers (180 miles) northwest of the capital, Baghdad.There, a suicide bomber detonated his explosives while standing next to army recruits waiting in line at the gate of a military base to apply for jobs early in the morning, police Col. Fatah Rasheed said.
The explosion killed five recruits and wounded 14, said Mr Rasheed. The police said a bomb blast in a commercial street killed two people and wounded six in Madain, about 20 kilometers (14 miles) southeast of Baghdad.Whereas in western Baghdad, a bomb exploded in a commercial street, killing one person and injuring five, added the police.Medical officials confirmed the casualty figures. All officials spoke on condition of anonymity because they were not authorized to talk to journalists.
Sunni insurgents in Iraq ,frequently, attack members of security forces in a bid to undermine the Shiite-led government in Baghdad.The attack came a day after the United Nations appealed for unity to reduce sectarian violence ahead of Iraq's April 30 elections.
In 2013, more than 8,800 people were killed due to the violence that ensued, the highest toll since the worst of Iraq's sectarian bloodshed began to subside in 2007. The trend has continued this year as well.