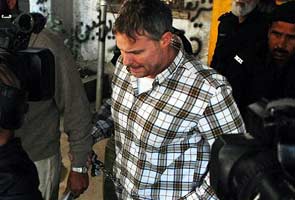 Lahore (Pakistan):
American officials won the release on Wednesday of a CIA contractor under investigation for two counts of murder in Pakistan after they spent more than six hours with the families of the victims, the lawyer for the families Asad Manzoor Butt said.
The families accepted a payment of money, ending the case, Mr Butt said. He did not specify the amount.
Punjab Law Minister, Rana Sanaullah, confirmed on television that payment had been agreed to and paid, and that the contractor, Raymond A Davis, 36, had been handed over to the United States consul general.
Mr Butt also said he thought Mr Davis had already left the jail. A five-car convoy from the United States consulate left the Kot Lakhpat jail at 4:20 pm, local time.
Mr Butt did not take part in the discussions between the family and American officials, which took place at the jail where he was held. He said he was kept in a side room at the jail throughout the day and was informed of the result by an official.
Mr Davis had been held at the jail since shooting and killing two motorbike riders on January 27 in the middle of the day in downtown Lahore. The American Embassy had insisted that he had diplomatic immunity and should be released. But the Pakistani government had refused to certify that he was entitled to full immunity. A judge had been expected to indict Mr. Davis on Wednesday, according to some reports.
The case has caused a rift in relations between the United States and Pakistan, and officials were eager to resolve it before meetings next month with the Secretary of State Hillary Rodham Clinton.