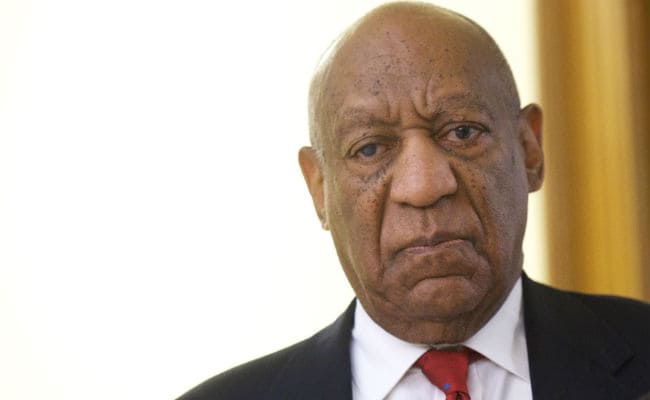 NORRISTOWN, Pa.:
Iconic entertainer Bill Cosby was convicted Thursday on three counts of sexual assault,
a decision that punctuates one of the most thundering falls from grace in American cultural history.
Once one of the nation's most admired men, a pioneering African-American actor beloved for his role as Dr. Cliff Huxtable on the 1980s megahit "The Cosby Show," Cosby was recast in a suburban Philadelphia courtroom as a merciless predator and sexual deviant. A 7-man, 5-woman jury took less than two days to convict Cosby of drugging and sexually assaulting Andrea Constand, a Temple University women's basketball operations director more than three decades his junior who the comedian lured into his home with promises of mentorship.
During 12 days of testimony and arguments in
the first celebrity trial of the #MeToo era of awareness about sexual assault and harassment
, Cosby was often a silent figure. He sat at the head of the defense table beneath rows of massive iron chandeliers in a marble-clad courthouse built before the Civil War in this hardscrabble city about 45 minutes northwest of Philadelphia.
The 80-year-old's face often betrayed his emotions as he sat at the head of the defense table with a pencil-thin wooden cane by his side. But on the final day before his case went to the jury, Cosby laughed and smirked at the defense table, then in an extraordinary moment of courtroom drama engaged in an uncomfortable stare-down with prosecutor Kristen Feden, who is less than half his age.
Cosby, who ditched his signature lumpy sweaters for business suits with matching pocket handkerchiefs, glared at the purple carpet with a deep frown as Constand testified about the night in 2004 when she says the comic legend offered her three round blue pills that he called "your friends," ostensibly to help her relax. But when a Temple academic adviser testified that Constand had confided that she could extort a celebrity with a false story of sexual assault, Cosby was almost giddy, smiling broadly with his face turned to the packed courtroom audience and occasionally laughing with one hand cupped over his mouth.
The academic adviser's testimony fit into a narrative laid out by the defense in which Constand was a "con artist." But prosecutors said it was actually Cosby who staged a con by using his fatherly television image to trick Constand and other alleged victims to trust him so that he could drug them.
Cosby was charged with three counts of aggravated indecent assault
in December 2015, just before a statute of limitations was set to expire. The courtroom saga played out in a setting that bore witness to Cosby's greatly diminished role in American society. A year after his mistrial on the same charges, media and courthouse security far outnumbered spectators and demonstrators for his retrial. Cosby's reputation had suffered for years - initially because of his scolding moralizing to African-American youth in the 2000s, then due to the avalanche of sexual accusers that began in late 2014 and now numbers at least 60.
Cosby, who says he is legally blind, arrived at the courthouse each morning on the arm of his public relations agent, Andrew Wyatt. On the opening day of the trial, their path was blocked when a topless protester leaped a barricade with the names of dozens of Cosby accusers scrawled Ion her skin in blood-red letters. The woman, who was brusquely shoved into a bush by sheriff's deputies, turned out to be a former child actor, Nicolle Rochelle, who'd had a recurring role on "The Cosby Show" as a friend of Dr. Huxtable's youngest daughter. On other days, a handful of demonstrators tried to disrupt Wyatt's periodic media statements by blowing bubbles and shouting.
Inside the courtroom, jurors were presented with a study in contrasts. The prosecution was headed by Kevin Steele, a tall career prosecutor with neatly parted gray hair and a halting, though earnest, speaking style that prompted some in the audience to count how many "ums" he uttered. The final tally was always large.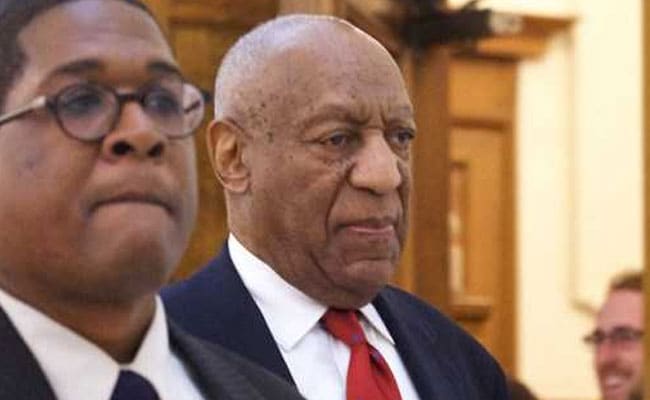 Cosby was defended by famed Los Angeles attorney Thomas Mesereau, who cross-examined witnesses in a velvety baritone and wore his snowy white hair cut all-one-length, pageboy fashion, and draped over his ears, down to his shoulders.
Prosecutors presented jurors with a dark image of Cosby, portraying him as a serial criminal. Six women - Constand and five "prior bad act witnesses"- testified in harrowing detail about the entertainer drugging them in incidents that stretched from the early 1980s until 2004. All say they were summoned by Cosby, in one way or another, dazzled by his fame and trusting because of his family-man image.
Janice Dickinson, the former supermodel, testified about leaving a photo shoot in Bali because the comedian offered help with her singing career. Heidi Thomas, Lise-Lotte Lublin and Chelan Lasha told jurors how Cosby promised to mentor their acting careers, and put them at ease by speaking with their parents or grandparents. Constand, the primary accuser, sought the comedian's advice on entering sports broadcasting at a juncture in her life when she was considering leaving her job as operations director of the Temple University women's basketball team.
But once they were alone with Cosby, the women all said he slipped them pills or drinks that left them in various states of unconsciousness. Dickinson said the pills he gave her for menstrual camps left her unable to move or "get the words out I wanted to say." Constand said she was "frozen" and seeing double. Another witness, Janice Baker-Kinney, said she "face-planted" into a backgammon board after accepting two quaaludes from Cosby.
Afterward, the women - who had once admired Cosby - said they feared him. Lublin described receiving a threatening phone call from Cosby; Baker-Kinney remembered Cosby holding a finger to his lips to indicate she should keep quiet. Dickinson said she wanted to tell her story of being raped by Cosby in a memoir, but was dissuaded by her publisher's lawyers who warned of the comedian's reputation for scorched-earth litigiousness. But, in the safer confines of the courtroom here, the women were free to speak their minds. Dickinson called Cosby a "monster"; Thomas labeled him a "serial rapist."
Mesereau parried the testimony by smoothly unspooling a counternarrative in which Constand played the role of methodical extortionist and the other accusers were greedy opportunists supposedly intent on getting a piece of a nonexistent $100 million victim's fund that attorney Gloria Allred had briefly proposed. In a blunt opening statement and later in a bare-knuckles cross-examination of Constand, Mesereau painted an image of the former professional basketball player as desperate, financially troubled and manipulative. The other women were bashed, too. Mesereau's co-counsel, a hard-driving former federal prosecutor named Kathleen Bliss, called Dickinson "an aged-out model." Bliss said Thomas, who'd never achieve dreams of acting stardom, was "livin' the dream now" while supposedly reveling in publicity about the Cosby case.
In Mesereau's telling, Cosby was "lonely and troubled" when he met Constand at the basketball arena at Temple University, where the comedian sat on the board of trustees. Cosby was still despondent over the death of his son, Ennis, who was shot to death in the late 1990s, Mesereau said. In the trial, though, jurors rarely heard the name of Cosby's wife, Camille, and never heard testimony about the couple's half-century marriage.
In an effort to ascribe a financial motive to Constand's actions, Mesereau asked her about a failed marketing business she'd launched and tried to persuade jurors that she ran a "pyramid scheme" at Temple. That suggestion seemed to fizzle when Constand testified that she'd merely forwarded a friend's emails about an internet marketing business that was described as a "pyramid without anyone at the top."
Mesereau leaned heavily on testimony about a lawsuit against Cosby that Constand settled for $3,380,000 in 2006 after a previous district attorney declined to prosecute the famed comedian.
"She was madly in love with his fame and money," Mesereau said in his opening statement.
Prosecutors tried to dismiss the notion that Constand, who often appeared confused and naive on the witness stand, could have extorted Cosby-a celebrity with a small army of lawyers and agents to protect him. Assistant District Attorney Stewart Ryan, a baby-faced 31-year-old, mockingly referred to Constand's supposed "master plan" while cross-examining Marguerite Jackson, a Temple academic adviser who testified about a basketball team road trip in which Constand allegedly confided that she'd be willing to lie about being sexually assaulted by a celebrity to extort enough money to quit her job and go back to school.
Prosecutors also called a sexual assault expert to testify about common "rape myths," such as the inaccurate belief that victims report their crimes quickly and cut off contact with their attackers. Constand, who waited a year to alert authorities and exchanged dozens of calls with Cosby after the alleged assault, was hammered by Mesereau with accusatory questions about those decisions.
The scenes played out in a tightly controlled courtroom, where local officials roamed the aisles to make sure no one was sending messages to the outside world via the internet. One day even the district attorney's father, a prominent patent attorney, was removed from the courtroom when his cellphone rang.
Cosby watched it all with an air of disdain, often rocking in his chair, holding his chin high. He sometimes displayed quirks. On several occasions he asked a sheriff's deputy to pass him a roll of tape, then tore off pieces and patted his closely-shaved head as if he were removing lint. His every move was monitored by three accusers who were not called as witnesses, but lined up everyday for seats in the back of the courtroom in hopes of seeing Cosby's comeuppance.
In a sense, Cosby had already been judged even before the trial began. Dozens of universities have withdrawn honorary degrees and several states have either abolished or extended statutes of limitation for sex crimes after lobbying campaigns inspired by the comedian's critics. Those developments have served as a dark coda to a remarkable career, one almost without precedent in the American entertainment industry.
Cosby, who grew up poor in a rough part of Philadelphia, made an indelible mark in the 1960s as the first African-American to star on a network series when he was the co-star of "I, Spy" and the first African-American actor to win an Emmy. He cut a swinging figure in Hollywood in those days, but later reinvented himself in the mid-1980s as the wholesome gynecologist and father of "The Cosby Show." The program became a landmark because of its depiction - almost nonexistent in the entertainment landscape of that era - of an upper-middle-class African-American family.
In his sold-out comedy performances and in best-selling comedy records and books, Cosby charmed audiences with his G-rated stories of family life. But, in reality, he led a more complicated existence, his marriage strained by frequent infidelities. Cosby's wife, Camille, only appeared at the courthouse for defense closing arguments, arriving to a chorus of protesters calling her husband "a rapist."
For most of the trial, the man who nurtured his father-figure image faced the greatest challenge of his life without the presence of his family to lend support. His two adult daughters stayed away. In the front row reserved for Cosby's supporters, there were often empty seats.
(This story has not been edited by NDTV staff and is auto-generated from a syndicated feed.)