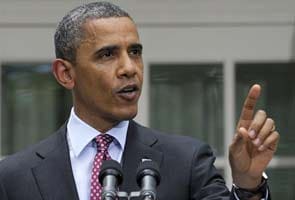 Washington:
Wishing people around the world "Happy Diwali and Saal Mubarak", President Barack Obama has praised the resilience of the Sikh community in the wake of the shooting at a Sikh gurdwara in Oak Creek, Wisconsin.
"Out of a day of sadness, we were reminded that the beauty of America remains our diversity, and our right to religious freedom," he said on Tuesday in a message of greetings to Hindus, Jains, Sikhs and Buddhists celebrating "the holiday of Diwali - the festival of lights".
"Diwali is a time for gathering with family and friends, often marked with good food and dancing. It is also a time for prayer and reflection about those less fortunate," said Mr Obama.
"It is a testament to the compassion of these communities that so many of them have helped those that have been devastated by Sandy," he said, referring to the storm that threw life out of gear in Northeast US, particularly New York and New Jersey
Turning to the Oak Creek tragedy and the "heroic actions of the first responders and the outpouring of support from people across the country", Mr Obama said: "In the wake of that horrible tragedy, we saw the resilience of a community that drew strength from their faith and a sense of solidarity with their neighbors, Sikh and non-Sikh alike."