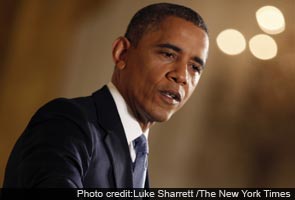 Washington:
President Barack Obama on Wednesday declared that he would not extend tax cuts at upper income levels but that Congress should quickly do so for the middle class, and he praised David H. Petraeus' record while saying that national security had not been compromised during the intelligence official's affair with his biographer.
At a news conference, Obama emphasized the need for a deal to settle budget issues before the end of the year, but he was also pressed on the scandal that forced the resignation of Petraeus as the CIA director.
Maintaining that "people are innocent until proven guilty," the president said that while he did not want to "meddle" in the investigation, he hoped that the scandal that upended the career of Petraeus "ends up being a single side note on what ends up being an extraordinary career."
His remarks at the news conference were the first from Obama on the scandal.
"My main hope right now is that he and his family are able to move on," Obama told reporters. "Gen. Petraeus has had an extraordinary career."
The president used his first official news conference since June to urge haste in budget negotiations meant to avert abrupt shifts in taxes and spending at the end of the year, and he called on Congress to extend middle-class tax cuts immediately, before lawmakers begin working on a complete deficit agreement.
He insisted that he would not agree to a similar extension of Bush-era tax rates on the highest levels of income.
"We should not hold the middle class hostage while we debate tax cuts on the wealthy," the president declared in an opening statement. Appearing before reporters in the East Room of the White House, he said that "right now, our economy is still recovering from a very deep and damaging crisis, so our top priority has to be jobs and job creation."
He reiterated his pledge to push for increasing taxes on the wealthy but added that an extension of the middle-class tax cuts must go into effect at once.
He described two choices on taxes for the lame-duck Congress: either to allow taxes to rise across the board at all income levels, or to pass a bill extending tax cuts for all but those in the highest tax brackets.
He said that extending tax cuts at lower income levels would provide a stimulus and help avert a recession that some economists have warned would accompany the steep spending cuts and tax increases that have come to be called the "fiscal cliff."
"Half of the danger to our economy is removed by that single step," he said. "We cannot afford to extend the Bush tax cuts for the wealthy."
Obama and the four top congressional leaders are set to meet Friday in the first round of what are likely to be grueling negotiations aimed at averting the year-end fiscal pileup of expiring tax breaks and across-the-board spending cuts.
Speaker John A. Boehner has been careful in his public comments so far to say that
Republicans are willing to consider additional federal revenue raised through changes in the tax code and closing loopholes. The president has not so far insisted that tax rates will have to be raised, but analysts and congressional Democrats say the revenue needed to make a dent in the deficit can't be generated solely through closing loopholes.
In a sign of the rapidly emerging clout of the Latino community, the third reporter the president called on was from the Spanish-language network Telemundo, and she, as he expected, asked him about immigration. That gave him the opportunity to call for lawmakers to begin work on immigration legislation immediately after his inauguration.
He said that he believed that the increase in Latino turnout at the polls should "cause some reflection on the part of some Republicans," adding that he wanted to see the Dream Act made into law to assist people who grew up in this country in becoming citizens. Immigration reform, he said, "has not historically been a partisan issue."
Obama said he had not yet reached out to his defeated Republican challenger, Mitt Romney, but, when asked, he said he was looking forward to getting ideas from Romney and looking for ways to work together. He specifically mentioned Romney's work on the Salt Lake City Olympics as an example of his managements skills.
Looking far more relaxed than he did during much of the campaign, Obama said he hoped to be a better president in the second term than he was in the first.
"I don't have to run for re-election again," he said, seeming relieved.
He then launched into a spirited defense of his U.N. ambassador, Susan E. Rice, saying he was "outraged" by repeated questions about Rice's appearance on Sunday news programs after the attack on the U.S. diplomatic compound in Benghazi, Libya, which led to the deaths of four Americans.
"If Sen. McCain and Sen. Graham want to go after somebody, they should go after me," Obama said, referring to lawmakers who have said they would try to block him if he tried to make her secretary of state.
He said he had not decided who will replace Hillary Rodham Clinton when she leaves that job but said he would not let the questions about Rice stop him from appointing her if he decided to choose her.
On Syria and its president, Bashar Assad, Obama proclaimed himself "one of the first leaders around the world who said that Assad had to go." But he did not take the opportunity to follow the lead of France, which declared Tuesday that it was recognizing the newly formed Syrian rebel coalition and would consider arming the group.
"One of the things we have to be on guard about, particularly when we start talking about arming the opposition, is that we're not putting arms in the hands of people who would do Americans harm," Obama said, "or do Israelis harm."
Then he declared his news conference at an end and refused to take a last shouted question from a reporter, saying it would be "a terrible precedent" to set.
After the news conference, Obama was scheduled to meet with about a dozen business chief executives at the White House as part of his effort to get both business and labor to support raising around $1.6 trillion in new revenues over 10 years, largely through taxes on business and the wealthy. Jay Carney, the White House press secretary, has said that increased revenue, when combined with $1.1 trillion in spending cuts that have already been signed into law and additional savings from Medicare and Medicaid, would reduce the deficit by $4 trillion over 10 years.
The last time the president stepped on a podium for an official news conference was in June, at the Group of 20 economic summit meeting in Los Cabos, Mexico. And even then, he took only three questions, leaving the media assembled before him grumbling that even Vladimir V. Putin, the Russian president, had answered more queries from journalists at the meeting.
© 2012, The New York Times News Service