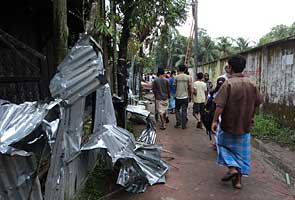 Dhaka:
Bangladesh sent in troops to guard Buddhist neighbourhoods on Monday after Muslim mobs carried out fresh attacks on temples and homes over a Facebook photo deemed offensive to Islam, police said.
At least five temples were attacked in different neighbourhoods of the resort region of Cox's Bazaar on Sunday evening, with thousands of protestors smashing several statues of Lord Buddha before riot police used force to repel the crowds.
"We shot rubber bullets to disperse the crowd," said Faruk Ahmed, deputy police chief for the southeastern region.
Police said that 107 people had been arrested in connection with the violence on Saturday and Sunday night.
"This was an organised attack. We won't spare anyone who is found to have played a role in the attack," said Mr Ahmed.
At least five homes were torched in the overnight violence which came after a 25,000-strong mob ran riot in the Ramu district of Cox's Bazaar on Saturday night, smashing temples and setting fire to dozens of homes.
The riots later spread to Patia, home to a sizable Buddhist population, outside the southeastern port city of Chittagong, where mobs attacked and vandalised three temples.
Mr Ahmed said soldiers were now patrolling Buddhist neighbourhoods and temples in Cox's Bazaar to prevent a further outbreak of violence.
"The army and BGB (border guards) has been deployed in the trouble spots," he told AFP. "The situation is calm but tense."
The violence was sparked by claims that a young Buddhist man had posted a photo allegedly defaming the Quran on Facebook.
The man at the centre of the accusations has gone into hiding after telling local media he did not post the picture, insisting someone else had "tagged" his account with the image on the social network.
His mother and an aunt have been given police protection for their safety after the violence broke out, officials said.
Buddhists, who make up less than one per cent of Bangladesh's 153 million population, are based mainly in southeastern districts, close to the border with Buddhist-majority Myanmar.
Sectarian tensions have been running high since June when deadly clashes erupted between Buddhists and Muslim Rohingya in Myanmar's western Rakhine state.
Although Bangladesh, where nearly 90 per cent of people are Muslims, has witnessed deadly clashes between Muslims and Hindus in the past, sectarian clashes involving Buddhists are rare.