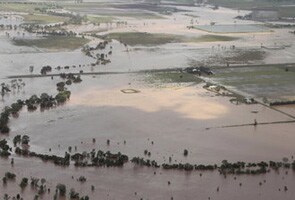 Sydney:
Tens of thousands of homes and businesses were inundated on Wednesday by raging waters that converged on Brisbane, Australia's third-largest city, and the surrounding townships, creating a vast flood zone that officials said could remain under water for days.
At least 12 people have been killed this week in the latest flooding to hit the northeastern state of Queensland since November. Five children were among the latest victims, caught up in a freak flood that ripped through the highland city of Toowoomba, 80 miles west of Brisbane, and other parts of the Lockyer Valley on Monday.
What some have called an "inland tsunami" slammed into Brisbane, a city of 2 million people, and other densely populated coastal areas on Wednesday, causing two major river systems to burst their banks, flooding roads and displacing thousands.
As many as 20,000 homes and 3,500 businesses in Brisbane's low-lying neighborhoods were evacuated overnight Tuesday and throughout Wednesday as a slow-moving brown tide engulfed dozens of Brisbane neighborhoods. The torrent closed highways and bridges, cutting the city in two, and ripped yachts and pontoons from their moorings.
In Ipswich, about 20 miles west of Brisbane, officials estimated that 3,000 homes and businesses were partially or wholly submerged when the Bremer River burst its banks. Television images showed murky water lapping at the rooftops of businesses along the main street in the city of 150,000 people.
More than 3,500 people have sought refuge at dozens of evacuation centers that have been set up to handle the displaced, according Queensland state officials. Thousands more were expected to flock to the centers as the water continued to rise overnight.
Officials said the evacuations were mostly orderly, although there were some isolated reports of looting. Some residents ignored police warnings and used kayaks and motorboats to rescue stranded neighbors and ferry their belongings to higher ground.
"You can't underestimate the water," Eric Bray, who abandoned his home when the waters reached his riverside neighborhood of Yeronga, told the Australian Broadcasting Corporation. "It's got no brain, it don't say nothing, it just don't care where it's going. All you can do is just get away before it starts coming."
Volunteers set up a playground in the corner of one emergency shelter to help distract displaced children as their parents sat glued to television and radio reports seeking information about their flooded streets and neighborhoods.
Officials predict that the swollen Brisbane River, which divides the coastal capital, will peak at about 20 feet above its normal level sometime early Thursday morning. The water is not expected to subside until the weekend, when the full extent of the damage will be known.
"I think we are going to wake up to a shocking and remarkable challenge," the premier of Queensland State, Anna Bligh, told reporters late Wednesday. "But I sense that this is a challenge that we are up to and a challenge that we will meet."
Dozens of emergency boats and military helicopters were on standby to help with last-minute evacuations and deter looters overnight, she said.
Meanwhile, search and rescue crews began entering areas of the devastated Lockyer Valley that had been isolated since late Monday. The police have repeatedly revised the number of those missing in the chaos of the past two days; by Wednesday evening, they put it at 43 and said they had "grave fears" for nine of them.
"Families who are still holding out hope, some of them are likely to have their hopes tragically crushed," Ms. Bligh said.
After enduring a decade of one of the worst droughts in Australian history, Queensland residents are now facing billions of dollars in flood damage. One member of Australia's Reserve Bank warned Wednesday that the disaster could shave up to 1 percent off Australia's gross domestic product.
The floods have virtually paralyzed the state's lucrative coal and agricultural industries. Queensland produces roughly one-third of the world's supply of coking coal, used in the production of steel. Industry analysts say global prices of coking coal and thermal coal, used to supply power plants, would rise because of the flooding.