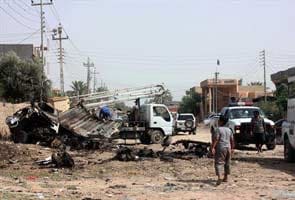 Baghdad:
Iraqi officials say a Shiite and a Sunni mosque in Baghdad have been targeted in bombings that killed at least nine people.
Police officials say a suicide bomber set off his explosives on Shiite worshippers as they were leaving Assad Allah mosque in the city's suburb of Hussainya late on Tuesday.
Seven people died and 11 were wounded in that attack.
And in western Baghdad, a bombing on Tuesday night near a Sunni mosque killed two worshippers.
Hospital officials confirmed the death tolls in the two attacks.
All officials spoke on condition of anonymity because they are not authorized to talk to the media.
Violence has escalated in Iraq, especially since the start of the Muslim holy month of Ramadan earlier in July.