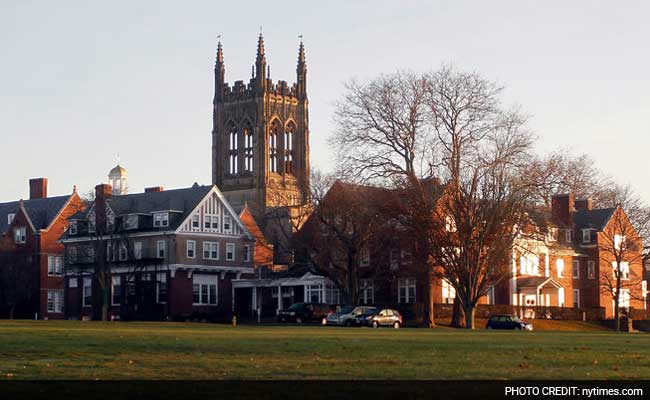 Harry Groome was just 14, a newcomer from a small Pennsylvania town, eager to fit in at his tony New England boarding school. His tormentors were seniors, one was even a prefect. They had superior social standing, not to mention numbers and size. So when they told him to keep quiet, he did.
Not that his silence stopped the whole school from knowing what happened to him: the teenage Groome was forced to stand atop a trashcan, he told the Boston Globe, pull down his pants and underwear, and bend over while an assailant raped him with a broomstick.
Attacks like the one on Groome were something of an open secret at St. George's School, the alma mater of Astors and Vanderbilts, the poet Ogden Nash and Sen. Claiborne Pell, where dozens of alumni say they were sexually abused. According to the Globe, a 1979 yearbook includes a photo of Groome in a trashcan, a hockey stick beside him. The caption reads, "It's better than a broomstick!"
The perpetrators were never punished, and Groome carried the trauma of his abuse through three years of high school and the following two decades. When, in the early 2000s, he finally reached out to school officials, telling them what had happened, he says he was not taken seriously.
Groome, now 52, is one of several former students who gave wrenching accounts of abuse at a news conference Tuesday, where lawyers announced that they had received credible reports from at least 40 former students that they'd been abused and, in some cases, raped by students and staff at the Rhode Island school between 1974 and 2004.
Four of the seven accused former staff members are still alive, according to the New York Times, and at least two appear to still be working with teenagers or children. None have ever been charged with a crime.
"The magnitude and scope of this is already approaching the largest private school sexual abuse case that we've seen, which was at Horace Mann, where 62 victims came forward," Eric MacLeish, a lawyer who is representing some of the former students along with fellow attorney Carmen Durso, told the Times.
In 2012 it emerged that dozens of students were abused by teachers at Horace Mann, a New York prep school, and that the abuse had been largely overlooked by administrators.
"Sexual abuse in education is the clergy-abuse crisis of this decade, if not this century," Durso added, "and you're going to see more and more of it."
The allegations about the abuse on St. George's campus - an expanse of green fields and stately brick and stone buildings overlooking the Atlantic Ocean - come two weeks after the school released its own report. An internal investigation found that at least 26 students had been sexually abused by at least six former employees during the 1970s and 80s. The perpetrators were fired or otherwise left the school, but St. George's did not report them to child protective services at the time, as is required by law.
"It is evident that the school failed on several occasions to fulfill its legal reporting requirements to the authorities," the report said.
"The school could have done more to keep its students safe."
On Tuesday, former students and lawyers called for an independent investigation of the abuse and demanded a more comprehensive response from St. George's, which they said has been covering up systemic abuse and offered only a "sanitized" account of the problem in its report.
Though there are no allegations that students are still being abused at the school, some victims, including Groome, said that current headmaster Eric Peterson has been unresponsive to their complaints.
"In the end, it is the behavior of Mr. Peterson and the school in 2015 which is scandalous," read a rebuttal to the school's report released on Tuesday, according to the Providence Journal.
In prepared statements released Tuesday, St. George's officials indicated that Peterson would not resign. The school also apologized "for the harm done to alumni by former employees and former students of the school," according to the Associated Press.
"We also apologize that the way in which the school addressed these incidents has served to compound this harm," the statement read.
Rhode Island State Police Capt. Matthew Moynihan told the New York Times that authorities are investigating the allegations forwarded by the school and the lawyers. MacLeish and Durso also said that Massachusetts is considering a "pass the trash" bill, which would make it illegal for public and private schools not to report complaints of wrongdoing- thereby hopefully preventing schools from passing along abusive teachers to new schools where they might commit more crimes.
St. George's report last month named one staff member it believed had committed sexual abuse - former athletic trainer Al Gibbs, who died in 1996. Gibbs was fired in 1980 after a male student found Gibbs photographing a nude female student in the athletic training room, according to the report.
Anne Scott and Katie Wales Lovkay, who both attended St. George's in the late '70s, described Tuesday how Gibbs, the athletic trainer, allegedly led them into the training room and instructed them to remove their clothes. Scott said she was repeatedly raped by the man, who was more than 50 years her senior. Lovkay tearfully recalled how he allegedly abused her and shared nude photographs of her with male students.
"It was absolutely horrible," she said, "I became known as the slut of the school."
When Lovkay reported the incidents to the school's headmaster, he did nothing, she said.
"I was made to believe that I was nuts," she said.
Both women said that they suffered years of mental health problems as a result of their alleged abuse - alcoholism, eating disorders, post traumatic stress. St. George's has said it will reimburse counseling for victims, according to the Associated Press.
On Tuesday, MacLeish and Durso named two other alleged perpetrators: former assistant chaplain the Rev. Howard White, who left in 1974 after reports of sexual contact with three boys, and Franklin Coleman, a former choir director fired in 1988 after he was accused of molesting male students.
Reached by the New York Times on Tuesday, White said: "I don't have any response. It's news to me." When asked if he had left because of accusations of sexual abuse, he replied, "That isn't really true." To the Boston Globe he said, "I have no response whatsoever."
Coleman went on to work at Tampa Preparatory School in Florida from 1997 to 2008, according to the Boston Globe. Hawk Cramer, a 1985 graduate who said he had been molested by Coleman, contacted Peterson and administrators at Tampa Prep with his story. But it did not appear that Coleman was fired from Tampa Prep or otherwise investigated for abuse.
"How many other kids suffered?" Cramer asked the Globe.
Coleman declined to comment when reached by the New York Times.
Groome, now a marketing professional with a wife and two kids, said that he broke his silence about what happened to him at St. George's when he had children. He wrote first to former headmaster Charles Hamblet, then to Peterson. But it didn't appear that his letters had any effect until 2011 - when, according to the St. George's report, an alumna also approached the school about alleged abuse by Al Gibbs. Her request for assistance paying for counseling is what launched the school's internal investigation.
"I have friends who have kids at the school," Groome told the Providence Journal Tuesday. "I want this to be a place they can all be proud of . . . this is a place that taught me to be honest, to right wrongs. They have done none of that."
© 2015 The Washington Post