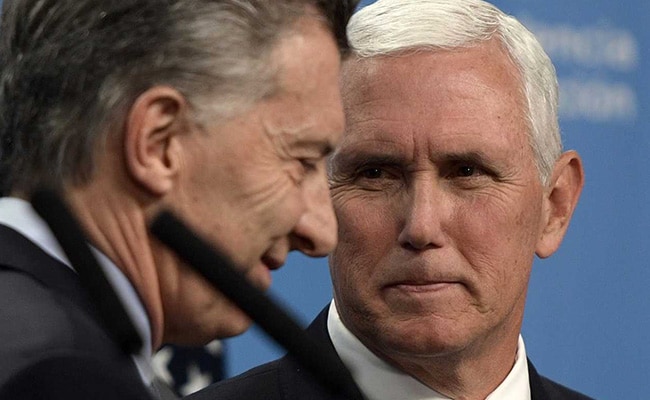 Buenos Aires:
US Vice President Mike Pence heard more complaints from Latin American allies on Tuesday about President Donald Trump's warning of a possible US military option to deal with the crisis in Venezuela.
"The use of force is not the way", but rather political pressure, Argentine President Mauricio Macri said at a news conference alongside Mike Pence, who is on a tour of Latin American countries.
Trump warned on Friday that he was considering various options to resolve the Venezuela crisis, "including a possible military option if necessary".
Venezuela's President Nicolas Maduro responded by ordering his armed forces to carry out a national exercise next week.
Pence moved to soften the impact of Trump's announcement, stressing that peaceful pressure is the priority.
But he did not rule out Trump following through on his threat.
"The United States has many options, and we reserve those options," Pence said.
"But we truly believe that by increasing economic and diplomatic pressure on the Maduro regime -- not just across the Americas, but across the wider world -- that we can achieve a restoration of democracy in Venezuela by peaceable means."
The United States along with Argentina and other regional allies have joined in international condemnation of Maduro.
But the South American bloc Mercosur over the weekend rejected any use of force to resolve the Venezuela crisis.
Maduro has been tightening his grip on power in response to economic chaos and angry street protests by opponents demanding elections. Nearly 130 people have died in recent months of unrest.
The US vice president was on the second stop in a tour of Latin America to rally the region over the Venezuela crisis.
He earlier visited Colombia and was due to travel to Chile on Wednesday and later to Panama.
Pence said a million Venezuelans had fled to Colombia and more than 60,000 to Argentina to escape the chaos in their country.
Pence and Macri said they discussed increasing trade between their countries.
Pence praised the economic reforms Macri has introduced since taking office in 2015.
The conservative president has moved to open up Argentine trade and finance, though his critics say the measures have worsened hardship for the poor.