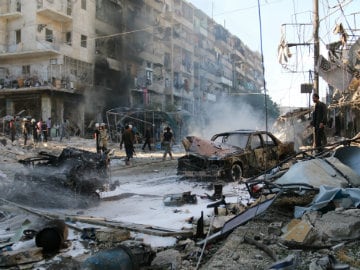 Washington:
An American citizen fighting for an Al Qaeda-backed militant group in Syria carried out a deadly suicide bombing in the first such case in the war-torn country, US officials said.
"The American citizen involved in the suicide bombing in Syria is believed to be Moner Mohammad Abu-Salha," State Department Spokesperson Jen Psaki said yesterday.
The attack first surfaced on Tuesday in Twitter messages from the Nusra Front, an Islamist extremist group aligned with Al Qaeda in the fight against the government in Syria.
Abu-Salha, 22, from South Florida is of Middle Eastern descent. Psaki expressed concern about the flow of foreign fighters into and out of Syria, saying "We're engaged in a focused outreach effort with key partner governments regarding our shared concern over the flow of foreign fighters to the Syrian conflict".
"Our partners across the region and Europe are also gravely concerned. That's an effort that's been ongoing for months now but it's one that we will continue to put effort into," she said in response to a question.
The US, she said, is closely tracking and closely working with its partners and allies about their concern about the growth of foreign fighters and the growth of extremism.
"We are stepping up our efforts to address threats where we see them coming from, and that's an example of our effort to do that," she said.
According to officials, Abu-Salha is believed to have traveled to Syria more than once. US authorities are investigating a network of recruiters who officials believe are funneling money and young fighters to Syria, according to the CNN.
Syria is facing a civil war that has left more than 160,000 people dead.