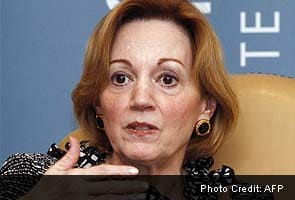 Washington:
Her image has been plastered on banners in Tahrir Square, crossed out with a blood-red X or distorted and smeared with insults. She is too cozy with Egypt's deposed president and the Muslim Brotherhood, the signs say, and should leave the country.
Anne W. Patterson, a press-shy career diplomat who has been the US ambassador in Cairo since 2011, suddenly finds herself a target in a dangerous political upheaval, a symbol for angry young Egyptians of America's role in their country's affairs.
With the Egyptian military ousting President Mohammed Morsi on Wednesday, Patterson will have to navigate a perilous course between Morsi's opponents and his enraged Islamist supporters, both of whom have grievances with the United States. That she has become such a lightning rod for US policy speaks to the legacy of US involvement in Egypt and to the comparatively low level of attention Egypt has received from the Obama administration since the ouster of Hosni Mubarak 2 1/2 years ago - at least until this week's turmoil.
As her bosses in Washington struggle to exert even modest influence over the events in Cairo, Patterson, 63, has been portrayed as a sinister force by pro- and anti-government protesters alike: a defender of the status quo as well as a troublemaker who schemes with the opposition.
"She's being lambasted because she's the face of America," said Vali Nasr, a former State Department official who worked with Patterson when she was ambassador to Pakistan. "But the fact that she's being excoriated instead of the president only represents the fact that the rest of the American administration is absent."
In his first reaction to Morsi's ouster, Obama warned of the dangers of violence and tried to steer Egypt's military toward a prompt resumption of democratic rule. But the flurry of White House meetings and phone calls Wednesday served to underscore the lack of leverage the United States has over Egypt, once a crucial strategic ally in the Middle East but lately just another headache.
Patterson's problems started on June 18 when she was invited, at a time of mushrooming demonstrations against Morsi's government, to speak to an audience in Cairo about the US relationship with the Muslim Brotherhood. It was, she said, a welcome chance to "set the record straight."
While the US supported Egypt's democratic development, it still had to deal with those in power, Patterson said, adding, "I don't think the elected nature of this government is seriously in doubt."
Moreover, she said she was "deeply skeptical" that "street action will produce better results than elections."
Even as Patterson sought to distance the United States from the Muslim Brotherhood, those words marked her as an enemy of the crowds in Tahrir Square, reviving memories of Obama's early reluctance to cut loose Mubarak, a longtime US ally.
"She manipulates people and secretly governs the country," Mona Mohammed, 52, a bank employee said of Patterson at an anti-government rally.
"The ambassador is part of a conspiracy against Egypt and its people," Mohammed added, clutching a poster with a caricature of Patterson and the slogan "Hayzaboon, Go Home." (Hayzaboon is Arabic for ogre.)
At a pro-Morsi demonstration across town, Mohammed Amr-Alla, a professor at Al-Azhar University, said: "The ambassador meets with the opposition and supports them. She should not interfere; she needs to watch from a distance."
Both of these perspective belie the reality that the United State has far less influence in Egypt than it did a generation ago.
A Patterson spokeswoman at the US Embassy in Cairo said she was not available for comment. On Wednesday, hours after Morsi's ouster, the State Department ordered the evacuation of all nonessential personnel from the embassy.
Secretary of State John Kerry said Wednesday that Patterson "does her best work in the most challenging places."
In a statement, he described her as candid, tough and committed to democratic change in Egypt.
In a 40-year career, Patterson's assignments have taken her from the guerrilla-infested jungles of Colombia to the shadowy drone wars of Pakistan, where she gained experience dealing with a weak civilian government and a restive military with a penchant for coups.
In Islamabad, colleagues said, Patterson cultivated ties to Pakistani military and intelligence officials, as well as to the Pentagon and CIA. She became a strong proponent of the CIA's covert drone strikes, as well as of US training of Pakistani troops in counterterrorism operations.
With a son who was then serving in the military in Afghanistan, "she really understood the military dimension," said Col. Barry Shapiro, a retired Special Forces officer who advised Patterson on military affairs. "We were all in this together."
Soft-spoken and even shy, Patterson has nevertheless built a network of contacts in Washington through regular meetings with senators like John McCain, R-Ariz.; military commanders like Gen. David H. Petraeus; and administration heavyweights like Leon E. Panetta, who served as CIA director and the secretary of defense.
Patterson, who has been widely expected to be nominated as assistant secretary of state for Near Eastern Affairs, arrived in Egypt four months after Mubarak's ouster. She worked closely with the Supreme Council of the Armed Forces, which had seized power, to develop a timetable for elections and met regularly with Morsi and the Muslim Brotherhood after he was elected president.
She pushed for an early visit to Cairo by Hillary Rodham Clinton, then the secretary of state, which happened, and a return visit by Morsi to the White House, which did not.
Her ties on Capitol Hill positioned her to help steer $1.3 billion in military aid through Congress. Lawmakers on Wednesday threatened to cut off the aid, however, saying that it could not lawfully go to a country that had overthrown its government.
With the White House preoccupied by the war in Syria, several officials said, Patterson took on a large role in dealing with the Egyptian government. Some critics said she did not speak out against troubling early moves by Morsi, like packing his Cabinet with allies.
"Over the last six months, you've seen Ambassador Patterson articulate more clearly concerns about Egypt's trajectory," said Tamara Cofman Wittes, a former State Department official who is director of the Saban Center for Middle East Policy at the Brookings Institution.
But Wittes said Patterson's recent remarks about the Muslim Brotherhood were poorly timed, given the political tensions.
"They were seen as an unbalanced and ill-timed American intervention into Egyptian domestic politics," she said.
Patterson also came under fire from some Republicans after the attack on the US diplomatic facility in Benghazi, Libya, that killed Ambassador J. Christopher Stevens and three other Americans. Her embassy, which also came under attack, initially issued a statement apologizing for a derogatory video about the Prophet Muhammad.
As Patterson faces the fraught days ahead, some former colleagues said her reputation for being unflappable was as important as her long experience.
"If you had to pick someone for a time like this," said Cameron Munter, who succeeded Patterson as ambassador to Pakistan, "you'd be hard pressed to find a better choice."
© 2013, The New York Times News Service