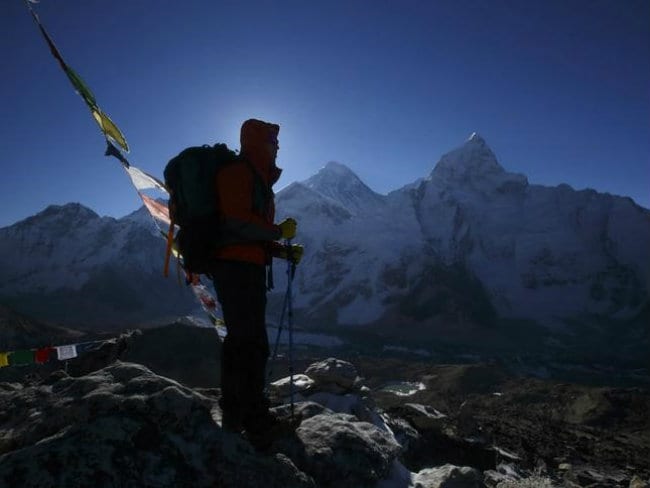 Kathmandu, Nepal:
Armed with a four-year-old laptop and an unreliable Internet connection, a retired weather forecaster working from his living room is the best local source of climate data for trekkers in Nepal months after a storm killed 32 in the Annapurna massif.

The tragedy, described at the time by Nepal's top civil servant as a "wake up call", has yet to result in any new meteorological services being provided to trekkers and guides, despite promises made by Prime Minister Sushil Koirala.

Instead, those heading to the world's highest mountain range largely rely on Krishna Bhakta Manandhar, a former senior meteorologist at Nepal's Meteorological Forecasting Division. He was among the first to warn that a cyclone in the Bay of Bengal would bring snowstorms in the Annapurnas. "I feel a moral obligation to help those in need," Manandhar, 64, told Reuters at his home in Kathmandu. "I am often nervous...they are high up in the mountains, what happens if I am wrong?"

Thousands of tourists from Europe, North America and East Asia have arrived in Kathmandu for the spring trekking and climbing season. Many have little or no mountain experience, and the failure to overhaul forecasting renews concerns about the safety of Himalayan treks.

"We have seen the government is concerned about this," said Prakash Adhikari, of Himalayan Rescue Association Nepal. "But we are yet to see them make any major improvements."

Annapurna was the nation's worst trekking disaster. Aside from the 32 fatalities, hundreds were injured when waist-high snow fell on a high-altitude pass in October.After criticism for failing to warn of the weather system, the government promised to set up a new system.An official at the Meteorological Forecasting Division said there "had not been any special improvement" since.


"If the weather is particularly bad, then we put out a press release and contact the home ministry," said the official, who asked not to be named.
ONLY RELIABLE SOURCE
Pemba Gyalje Sherpa, ex-President of Nepal National Mountain Guides Association, said Manandhar "was the only reliable forecasting source."
Manandhar says his forecasts are limited by a lack of equipment. He said they were "generalized" and only applied up to 20,000 feet, below the high points of dozens of mountains.
While high-altitude climbers subscribe to overseas forecasting services, casual trekkers - who made up most of those killed last year - often walk without guides and rely on word of mouth for conditions. "I wake up in the middle of the night and check the satellites," Manandhar said. "It is so much responsibility. But what else can I do?"
© Thomson Reuters 2015