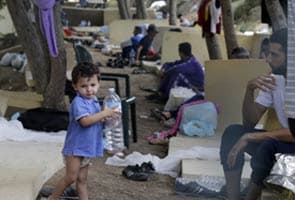 Rome:
Nearly 700 refugees including dozens of Eritreans have been rescued off Sicily in five operations, as leaders grapple with the issue of illegal immigration at a European Union summit.
Patrol boats, navy vessels and a Maltese-flagged cargo vessel rescued asylum-seekers from five boats over the past 24 hours, the coastguard said in a statement on Friday.
The 318 migrants picked up by the navy were all packed on two boats and were later transferred onto the San March amphibious assault ship taking part in a massive search and rescue operation.
The operation was launched by the Italian government in the wake of an October 3 refugee shipwreck tragedy just off the Italian island of Lampedusa in which 366 asylum seekers perished.
Some of the refugees rescued between Thursday and Friday were also Eritrean, where most of the passengers on the boat that sank came from.
More than 33,000 migrants have landed in Italy so far this year -- nearly three times more than the number for last year. The most common countries of origin are Eritrea and Somalia and now also Syria.
The mayor of Lampedusa, the island where most of the migrants land, warned European leaders of the need for an urgent rethink of immigration policies.
"Unless Europe's approach to asylum and immigration changes, it won't only be the migrants but the EU that drowns off Lampedusa," Giusi Nicolini said in Brussels, where she met with European Parliament head Martin Schulz.