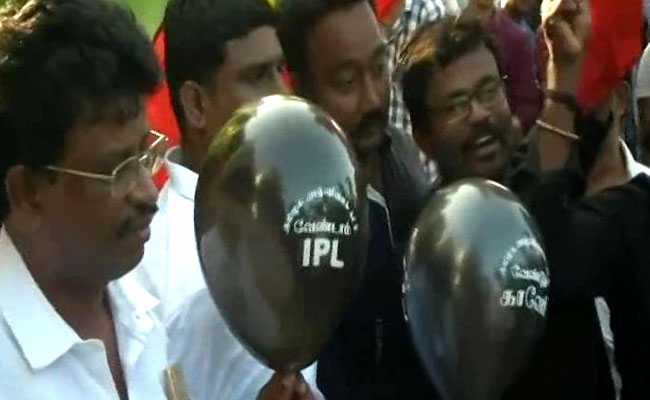 Chennai:
Amid raging dispute over the Cauvery issue, workers of a Tamil outfit, Tamizhaga Vazhvurimai Katchi (TVK), gathered outside MA Chidambaram Stadium in Chennai today. The party workers are protesting against the Indian Premier League (IPL) matches being held at the stadium. After a lot of traffic restrictions around the stadium and the arrival of the teams accompanied by tight security, the toss for the game was taken at 7.43 pm, by a delay of 13 minutes.
The Chidambaram stadium earlier in the day
turned into a virtual fortress
with 4,000 policemen including commandos and members of the Rapid Action Force, news agency PTI reported. IPL tie involving Chennai Super Kings (CSK) and Kolkata Knight Riders (KKR) is to be held at 8 pm today.
Earlier, actor-turned-politician Kamal Haasan and his peer Rajinikanth also voiced concern about the Tamil Nadu capital hosting IPL Matches as centre delays the constitution of the Cauvery Management Board.
Here are the highlights on the Cauvery IPL protests outside the IPL Venue, MA Chidambaram Stadium, in Chennai.
Protests intensified in the city today against the conduct of IPL matches amid raging Cauvery demonstrations, with police chasing away agitators in some places. One incident of agitators burning yellow jerseys, the attire of Chennai Super Kings players, was also reported.
Chennai: Protest by various groups outside MA Chidambaram Stadium in Chepauk, intensifies. They are agitating against #CSKvsKKR IPL match to be held at 8 pm. Heavy Police force deployed. #CauveryManagementBoard. pic.twitter.com/eFcOIfhcAt

- ANI (@ANI) April 10, 2018